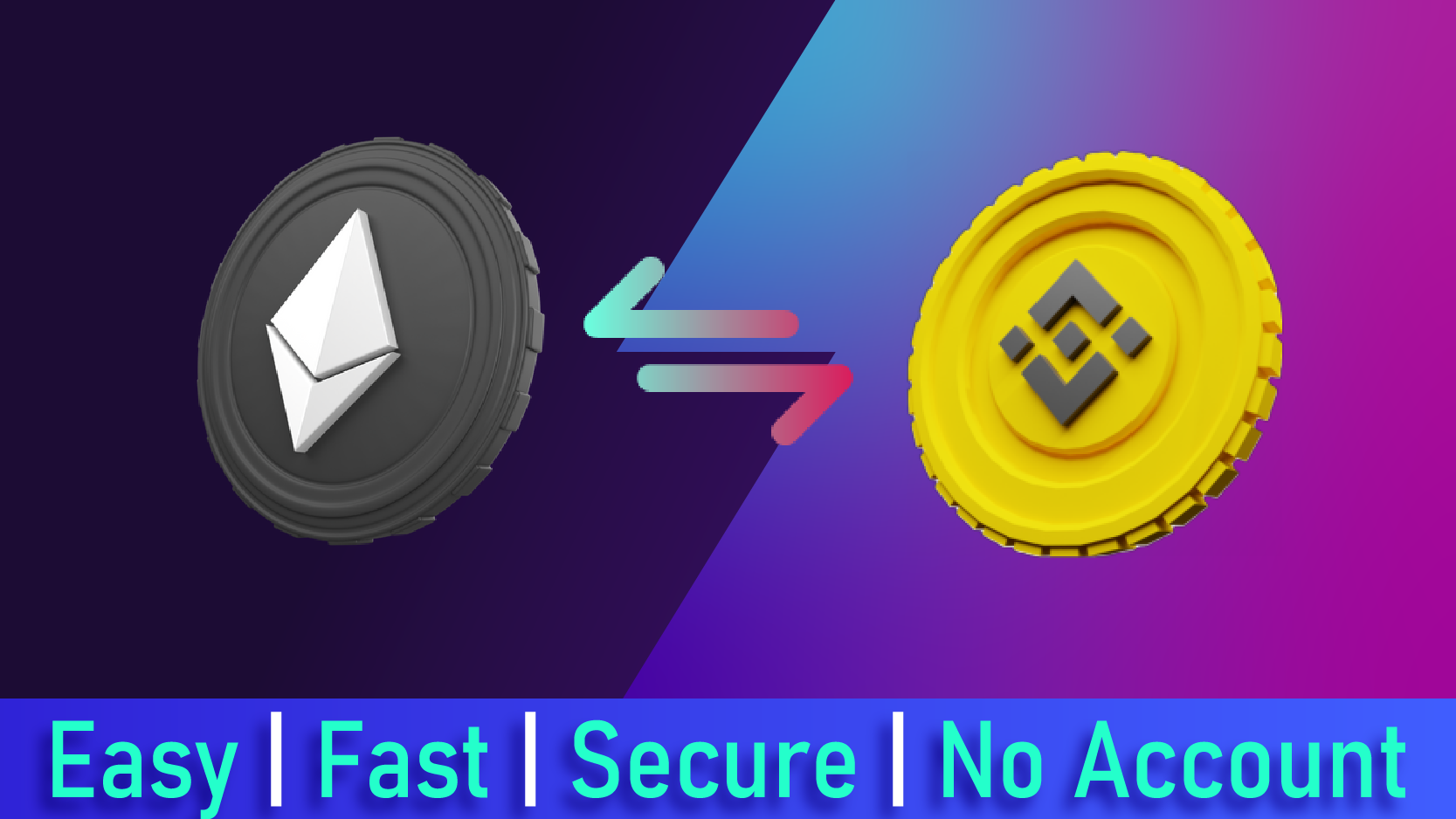 Two of the most in-demand cryptocurrencies on the market are the Binance coin and Ethereum. It comes as no surprise that a lot of people are interested in trading and swapping these two cryptos.
CAN I SWAP ETH TO BNB?
Yes, you can convert ETH to BNB, straight from your favorite DeFi wallet like MetaMask, Coinbase DeFi wallet, Trustwallet, etc. You can use RocketX to convert ETH to BNB and also for ETH to BNB Bridge at best price across 270+ centralized and decentralized exchanges.
HOW TO CONVERT ETH TO BNB?
Want to convert ETH to Binance Coin at best price across DEXs and CEXs? Even if you are new to crypto, here's a simple guide on how to easily convert ETH to Binance Coin on our app, RocketX:
Connect your DeFi wallet.

Select

Ethereum

network and

ETH

token in the first dropdown.

Select

BNB Chain

and

BNB

token in the second dropdown.

Optionally, you can choose to enter a different

BNB Chain

destination wallet address.

Cross-Chain Swap!
Viola! You're all done! You will receive BNB with 1-click!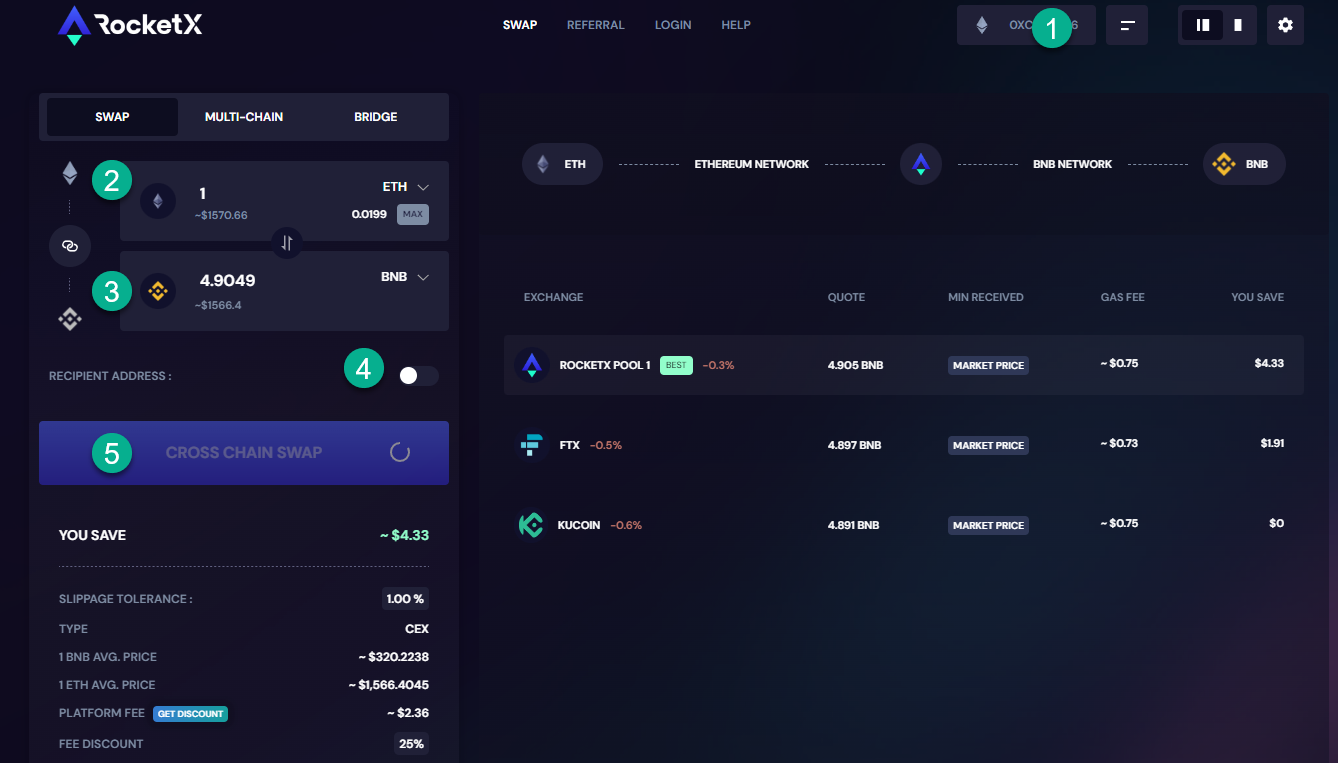 VIDEO TUTORIAL TO SWAP ETH TO BNB
Here's an easy step-by-step short tutorial to demonstrate, 'How to swap ETH to BNB?'.
BENEFITS OF SWAPPING ETH TO BNB USING ROCKETX?
No custom wallet
No pre-deposit or collateral
No wrapped/synthetic counterparty asset
No hidden fees
No hopping around exchanges in search of lower price
RocketX lets investors swap across chains at the best price in a secure and efficient way. The liquidity is obtained through leading CEX & DEX Pools, which has the highest liquidity compared to individual exchanges.
RocketX multi-chain swaps are therefore cost-effective and have minimal slippage. The platform fee can be slashed down by 100% by holding the exchange's token RVF. With just 1-click you can swap crypto across chains in a jiffy.
WHAT IS ETHEREUM (ETH)?
Ethereum is a blockchain-based decentralized global software platform at its heart. It is well known for ether, often known as ETH, which is its native cryptocurrency.
The blockchain technology that powers Ethereum enables secure digital ledgers to be publicly created and maintained.
Bitcoin and Ethereum have many similarities but different long-term visions and limitations.
Ethereum is transitioning to an operational protocol that offers incentives to process transactions to those who stake their ETH.
Ethereum is the foundation for many emerging technological advances.
WHAT IS BINANCE (BNB)?
Binance Coin, which trades under the name BNB, is a cryptocurrency created by the Binance exchange.
Although BNB is currently the native currency of Binance's own blockchain, the Binance smart chain, it was originally built on the Ethereum network.
 Each quarter, Binance burns, or repurchases, the Binance coins it holds in its treasury, using one-fifth of its revenues.
Binance was first developed in 2017 as a utility token for reduced trading fees, but its usage has since grown to include a wide range of services, including as the payment of transaction fees (on the Binance Chain), booking travel, entertainment, online services, and financial services.
Binance's market cap at the time of writing was more than $56 billion. BNB is now the fifth-largest cryptocurrency by market capitalization, after only Bitcoin, Ethereum, and USD Tether.
CONCLUSION
Both ETH and BNB are well-known and popular in the cryptocurrency community. Both assets provide a variety of tempting attributes, yet one asset may be more suitable for particular trader. RocketX is a flexible platform that provides a variety of ways to exchange ETH and BNB coin. We want to offer customers a platform where they may exchange between all the most widely used cryptocurrencies, trade them, and quickly diversify their cryptocurrency portfolio.
EXPLORE POPULAR CROSS-CHAIN SWAPS...
The number of crypto coins you may utilize with our exchange service is plenty! Enjoy our best exchange rates, quick transfers, and accurate exchange amounts by selecting any cryptocurrency pair!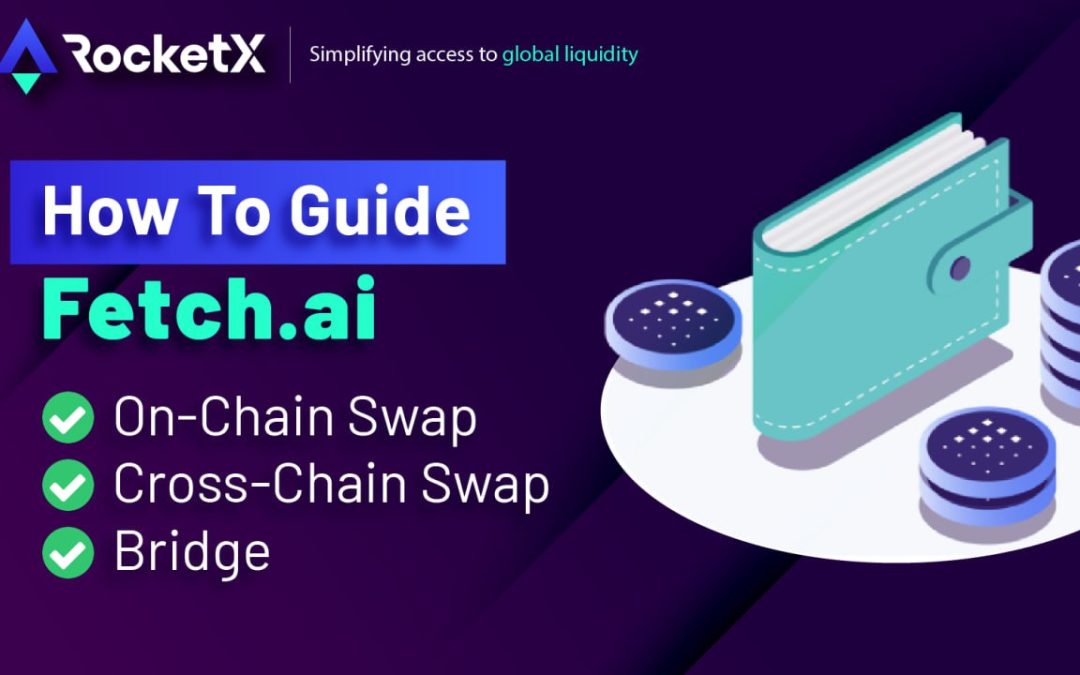 This article is a guide on swapping, bridging, and cross-chain swapping Fetch.ai on...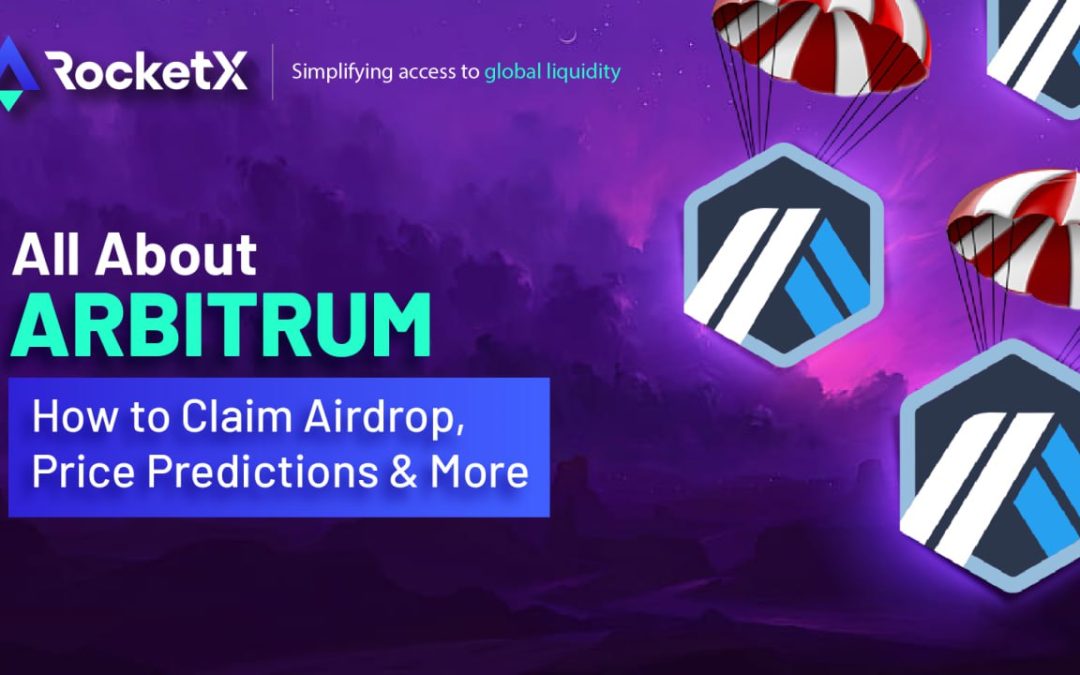 All You Need to Know About Arbitrum Airdrop Ethereum's Layer 2 scaling solution, Arbitrum,...