Tether (USDT) and Ether (ETH) are currently two of the hottest cryptocurrencies in the digital currency realm, with both commanding significant attention from investors and traders alike. Unsurprisingly, the allure of these cryptocurrencies has led to a surge in interest from individuals seeking to dabble in the art of buying, selling, and exchanging these coveted assets.
CONVERTING ETH TO USDT AT BEST EXCHANGE RATE
Did you know that you can effortlessly swap your ETH for USDT directly from your preferred DeFi wallet? RocketX lets users trade via popular wallets like MetaMask, Coinbase DeFi wallet, Trustwallet, and others, making the exchange easy and seamless. And if you're looking for the best deal, consider using RocketX. With RocketX, you can convert ETH to USDT across 300+ centralized and decentralized exchanges, both on-chain and cross-chain, at the most competitive prices available.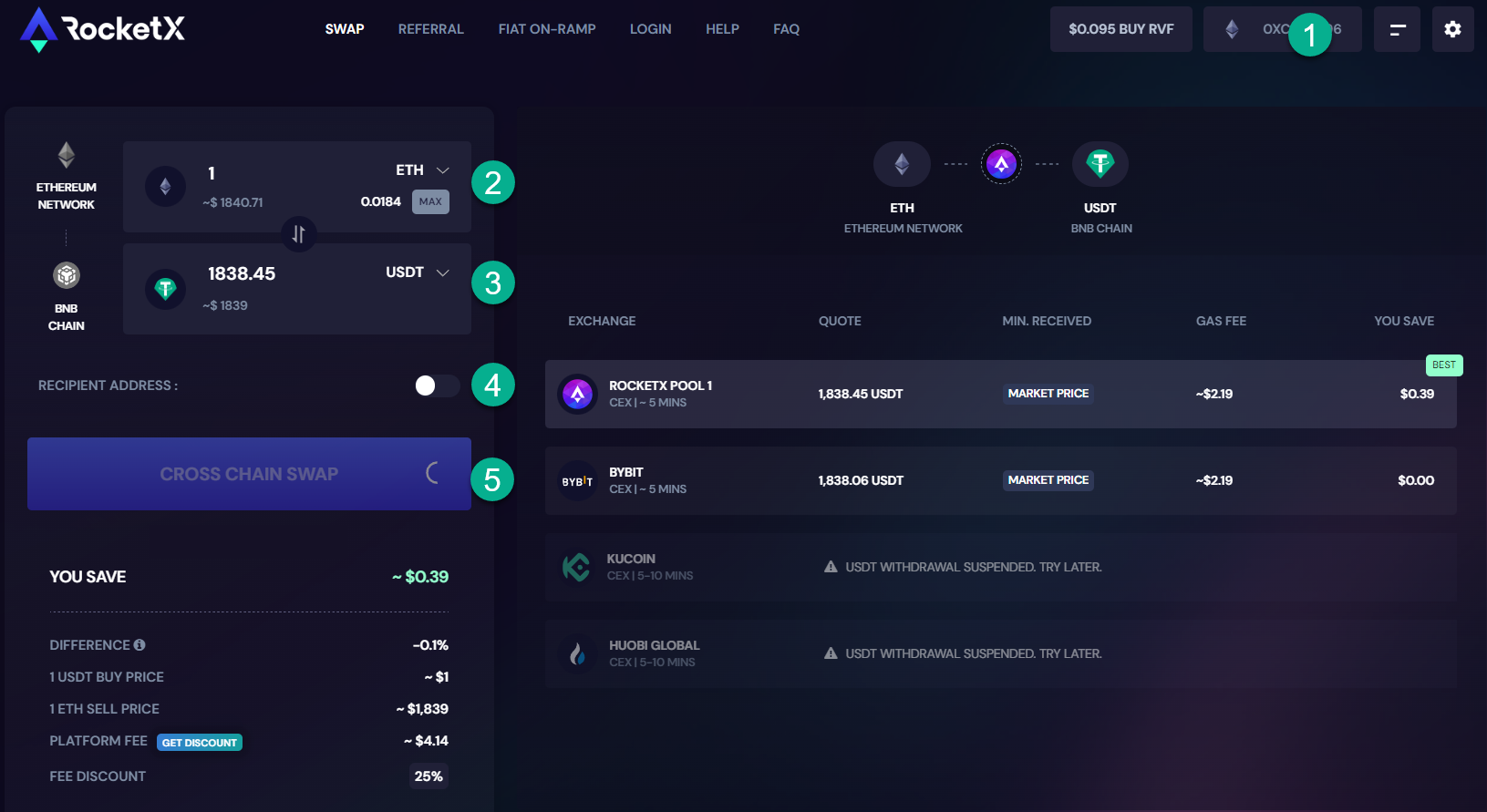 Connect your DeFi wallet.

Select the

Ethereum

network and

ETH

token in the first dropdown.

Select

BNB Chain

(or another chain of your choice)

and

USDT

token in the second dropdown.

Optionally, you can choose to enter a different

BNB Chain

destination wallet address.

Cross-Chain Swap!
Viola! You're all done! You will receive USDT with 1-click. No Account, No Login, 300+ Decentralized CEXs and DEXs!
Easy, Secure & Cost-Efficient USDT Bridge
Here's an easy step-by-step short tutorial to demonstrate, Ethereum Mainnet to BNB Chain Bridge transfer steps. In our example, we are bridging USDT from Ethereum to BNB Chain (BSC) and you can replace it with any token of your choice. 
Connect your DeFi wallet.

Select

Ethereum

network and

USDT

token in the first dropdown.

Select

BNB Chain (BSC)

and

USDT

token in the second dropdown.

Optionally, you can choose to enter a different

USDT Chain

destination wallet address.

Bridge!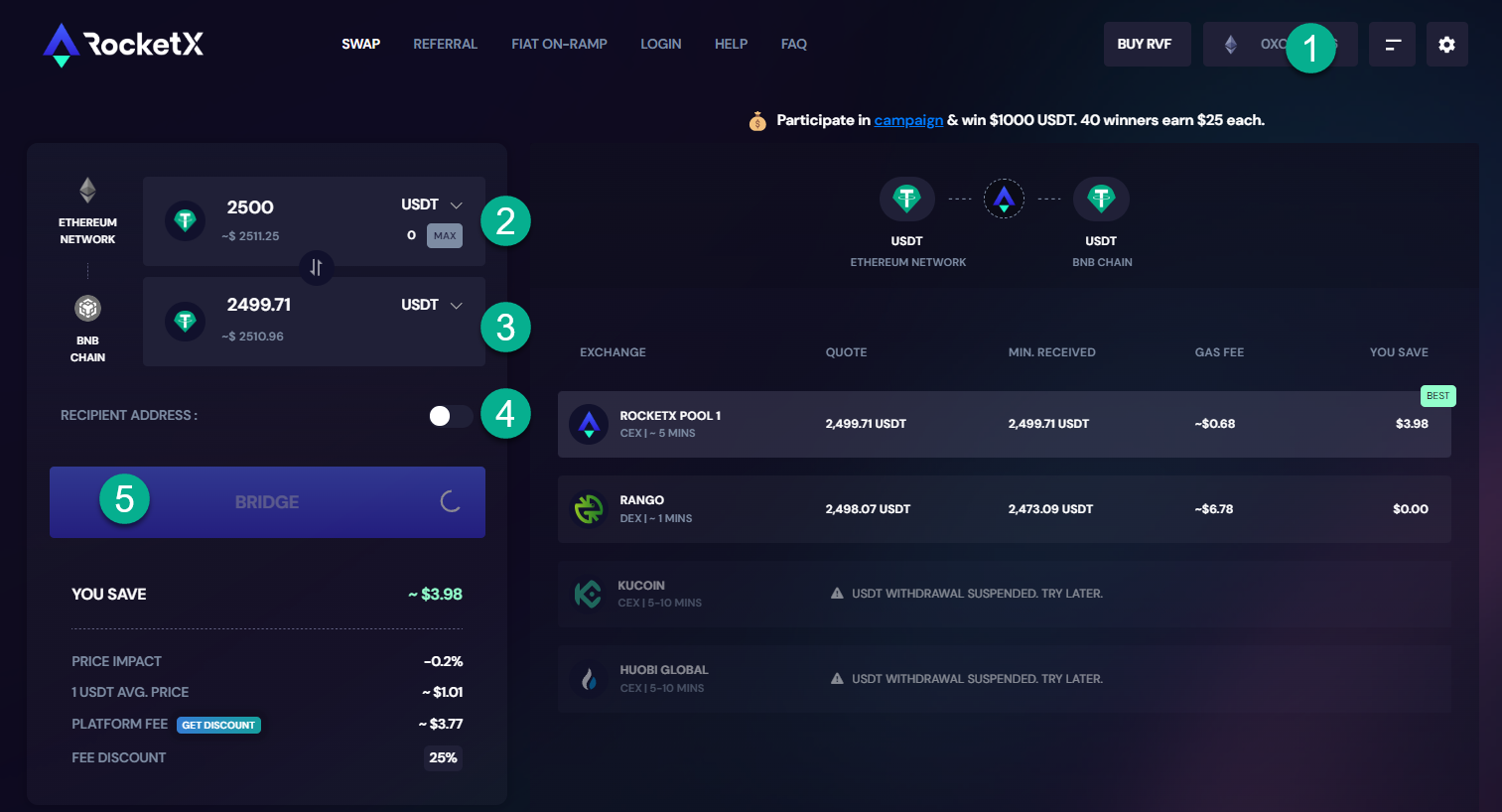 BENEFITS OF ETH TO USDT Swap / ETH to USDT Bridge Via ROCKETX
No custom wallet

No pre-deposit, No collateral

No hidden fees

No

synthetic/wrapped

assets

No hopping around exchanges in search of lower price

Decentralized Access to 300+ CEXs & DEXs
With liquidity sourced from top CEX and DEX Pools, multi-chain swaps are cost-effective and have minimal slippage. Holders of RVF tokens can reduce platform fees by 100%. With just one click, investors can quickly swap crypto across chains. Say goodbye to complex and inefficient crypto swaps with RocketX's ETH to USDT 1-click swaps.
WHAT IS ETHEREUM (ETH)?
Ethereum is a blockchain-based decentralized global software platform at its heart. It is well known for ether, often known as ETH, which is its native cryptocurrency.
The blockchain technology that powers Ethereum enables secure digital ledgers to be publicly created and maintained.

Bitcoin and Ethereum have many similarities but different long-term visions and limitations.

Ethereum is transitioning to an operational protocol that offers incentives to process transactions to those who stake their ETH.

Ethereum is the foundation for many emerging technological advances.
WHAT IS TETHER (USDT)?
According to Tether's website, the stablecoin (USDT) is pegged to the U.S. dollar and backed "100% by Tether's reserves."

iFinex, the Hong Kong-based company that owns the crypto exchange BitFinex, also owns Tether.

Investors use Tether to hold funds within the crypto system and avoid the volatility typical of cryptocurrencies.

In 2021, Tether's parent company settled two regulatory probes by paying nearly $60 million in fines for mishandling and misrepresenting its reserves.

Tether has extended its reach to other regions, including China, Mexico, and the Eurozone.
CONCLUSION
Both ETH and USDT are well-known and popular in the cryptocurrency community. Both assets provide a variety of tempting attributes, yet one asset may be more suitable for particular trader. RocketX is a flexible platform that provides a variety of ways to exchange ETH and USDT coin. We want to offer customers a platform where they may exchange between all the most widely used cryptocurrencies, trade them, and quickly diversify their cryptocurrency portfolio.
EXPLORE POPULAR CROSS-CHAIN SWAPS...
The number of crypto coins you may utilize with our exchange service is plenty! Enjoy our best exchange rates, quick transfers, and accurate exchange amounts by selecting any cryptocurrency pair!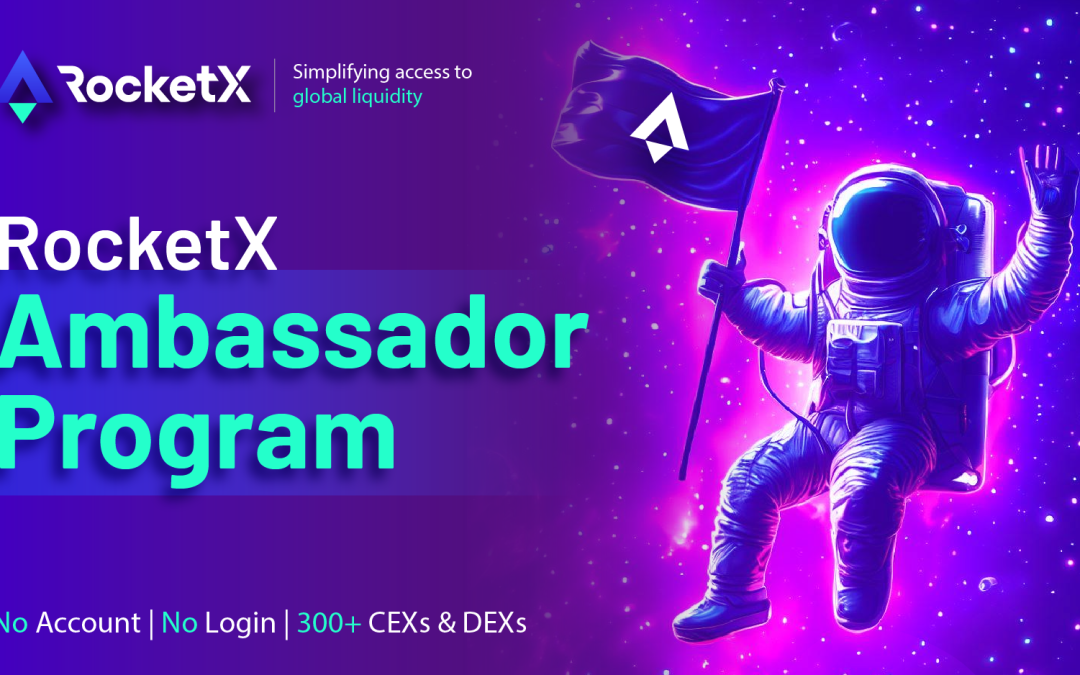 Introduction We are excited to introduce the RocketX Ambassador Program, an opportunity for you to earn $RVF while assisting RocketX in...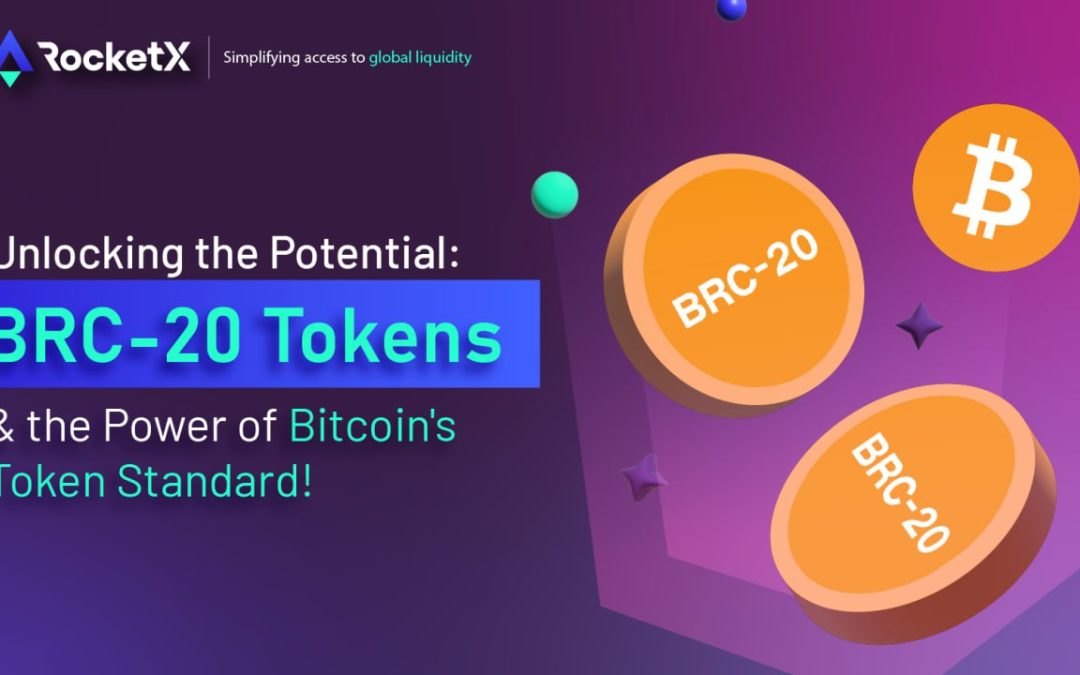 Introduction: In the world of blockchain and cryptocurrencies, token standards play a crucial role in defining the functionality and...