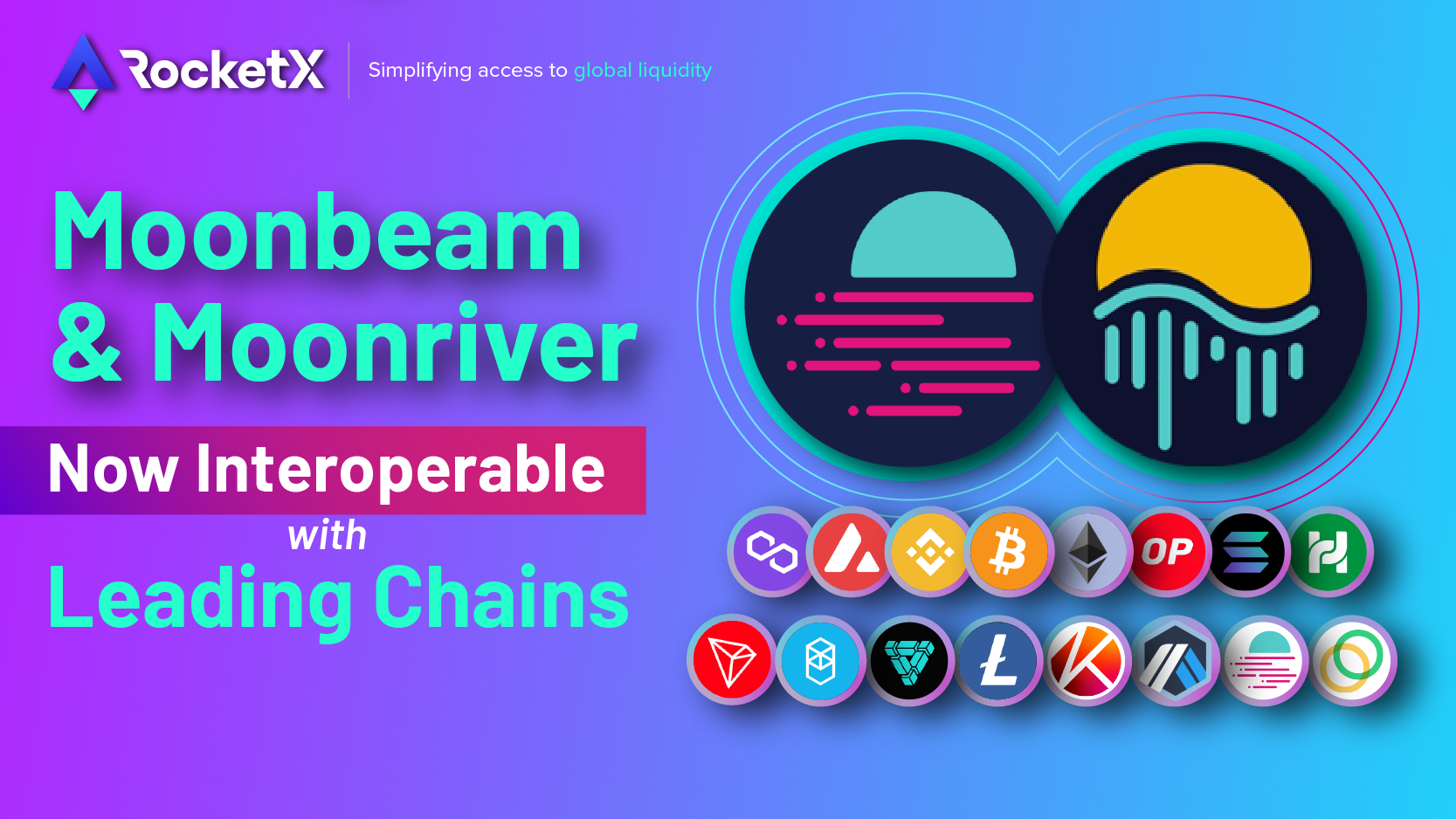 RocketX's Interoperability Solution Empowers Moonbeam and Moonriver Networks to Connect with Top Blockchains like Bitcoin and Ethereum!
Moonbeam & Moonriver networks are now available on RocketX, an innovative decentralized exchange platform that offers users the ability to seamlessly exchange a variety of cryptocurrencies. By utilizing RocketX's one-click cross-chain transactions, crypto users can quickly and efficiently swap Native tokens on 60+ blockchains supported on RocketX to MOVR on Moonriver & GLMR on Moonbeam in 1-click! 
RocketX is dedicated to solving the issue of blockchain compatibility, making it a popular choice among crypto users.
Access Moonbeam & Moonriver Networks from 60+ Leading Ecosystems
Bitcoin (BTC), Ethereum (ETH), BNB Chain (BNB), Polygon (MATIC), Avalanche (AVAX), IBC Ecosystem, Solana (SOL), Arbitrum, Optimism(OP), Fantom Network (FTM), Solana (SOL), KCC Network (KCS), Telos (TLOS), KLAYTN (KLAY), Metis (METIS), Cronos (CRO), OKX Chain (OKT), HECO Chain (HT), Celo (CELO), Dogecoin (DOGE), Cube Network (CUBE), Litecoin (LTC), Bitcoin Cash (BCH), Tron Network (TRX) and more…
How Does RocketX Achieve This?
RocketX is building a CEX & DEX aggregator protocol that aggregates the liquidity across all leading centralized and decentralized exchanges and simplifies access to global liquidity via a single secure UI.
RocketX has so far aggregated liquidity across 250+ DEXs & 6 leading CEXs (KuCoin, OKX, Huobi Global, BYBiT & 2 more leading CEXs with which we signed an NDA). 
Here is an overview of how RocketX interacts with the world.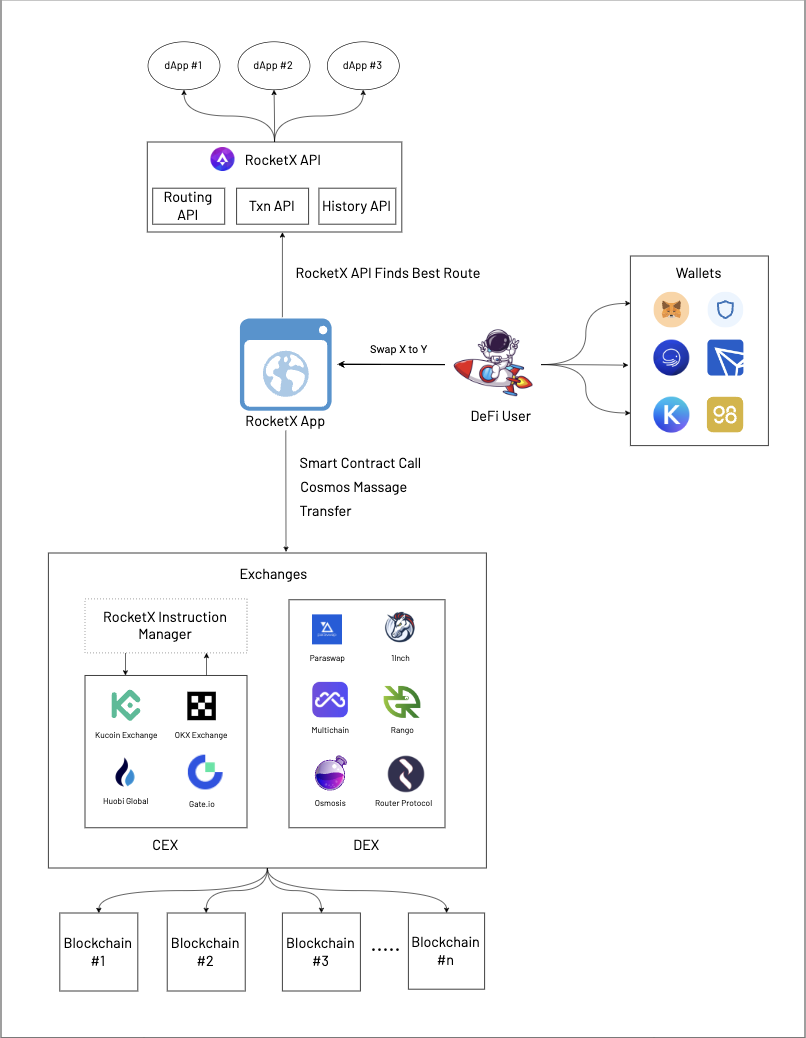 RocketX makes use of the APIs to aggregate all leading exchanges, both CEXs and DEXs. RocketX partners with leading CEXs and works as an exchange broker to help users with decentralized access to the deep liquidity available on CEXs. Users can trade on both CEXs and DEXs from their favorite wallet and enjoy 100% ownership of their digital assets while trading via RocketX.
Whenever a user wants to swap assets from any of the blockchains (60+) supported on RocketX to either Moonriver or Moonbeam, RocketX scans all the protocols that support 1-click cross-chain swaps and presents them to the user as shown below: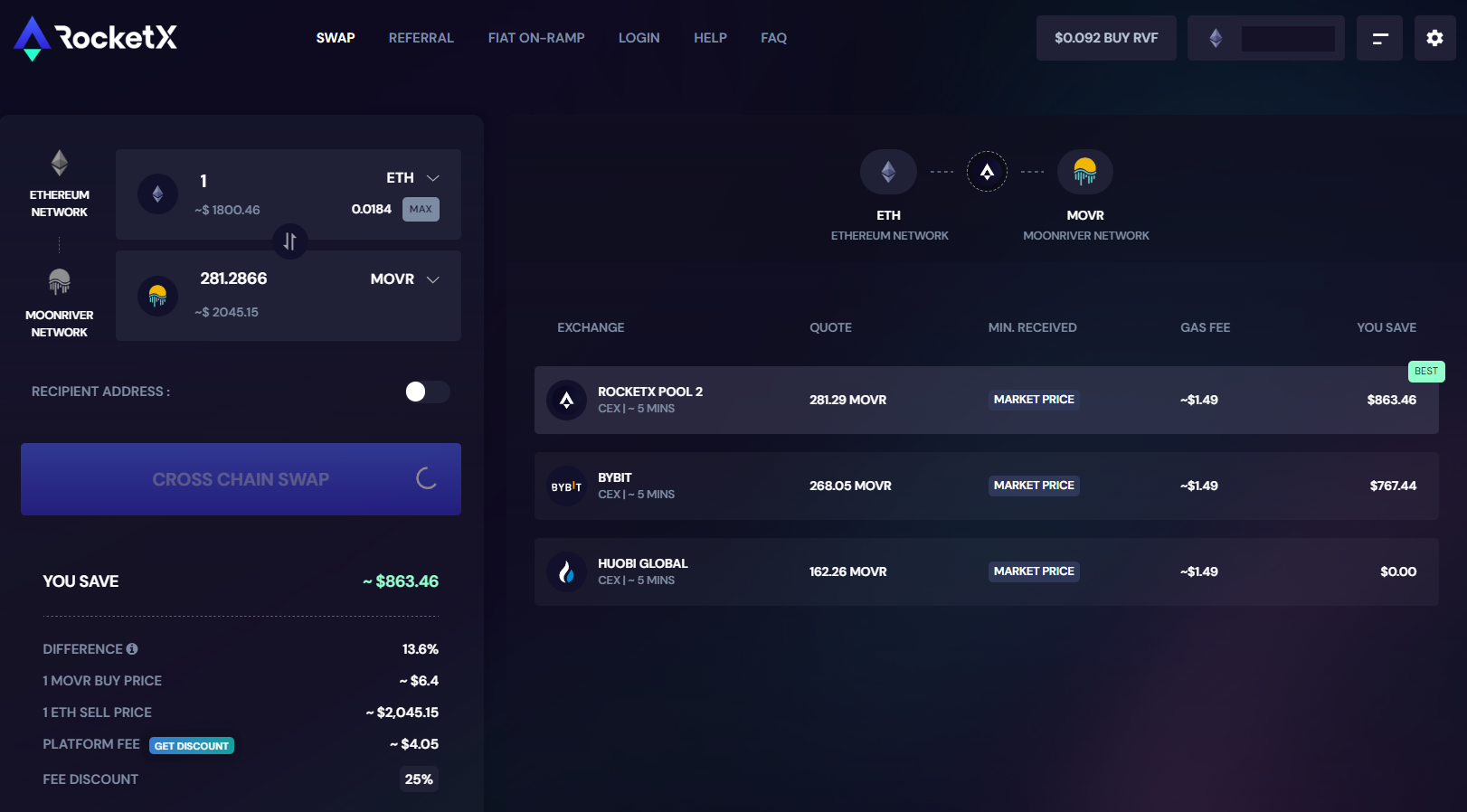 Swap ETH on the Ethereum network to MOVR on Moonriver Network in 1-click by utilizing the liquidity available on leading exchanges.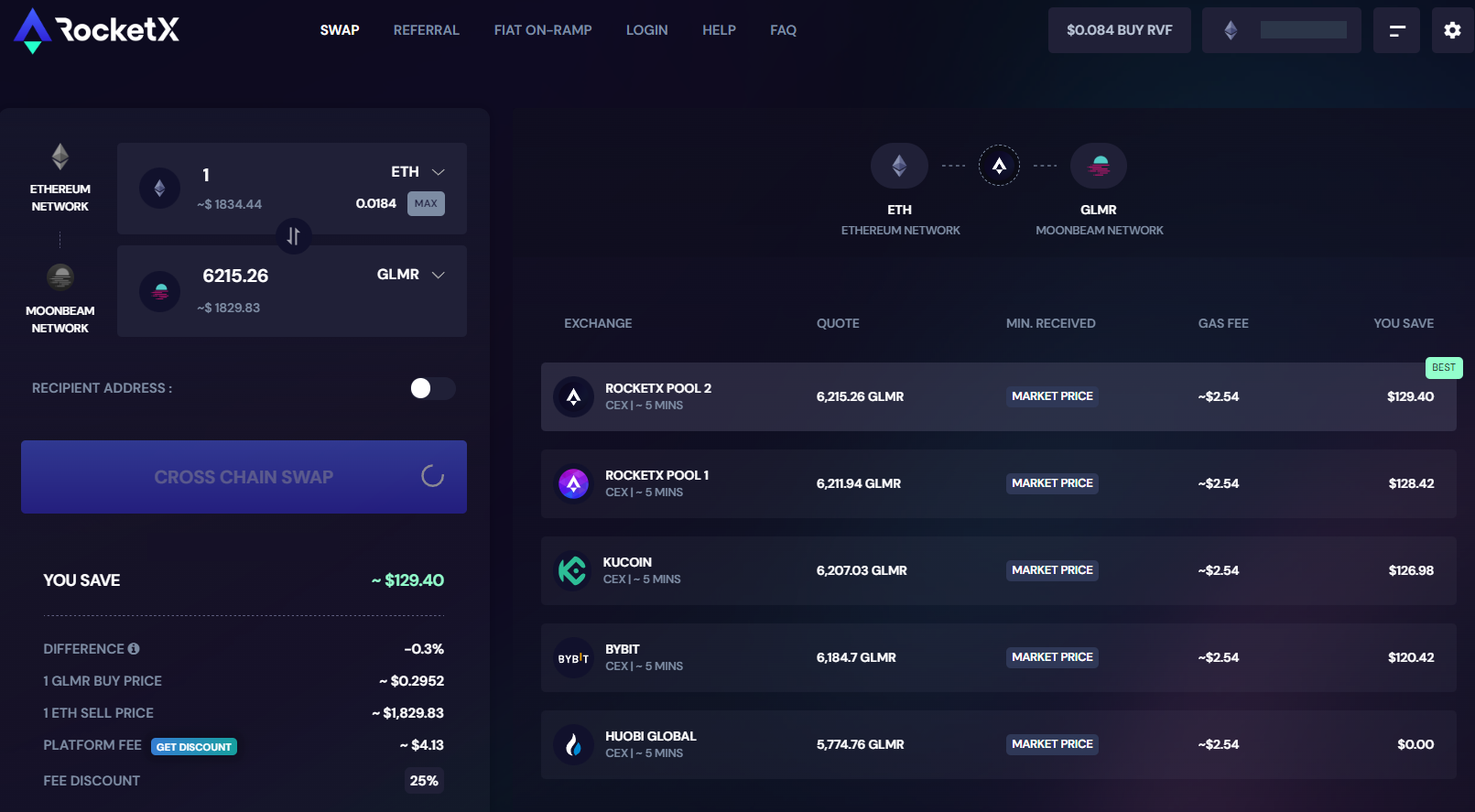 Swap ETH on Ethereum network to GLMR on Moonbeam Network in 1-click by utilizing the liquidity available on leading exchanges
User can select the exchange of his/her choice and complete the swap in 1-click. Usually it takes ~5 minutes for the cross-chain swap to complete. Users can also check the status of their swaps by visiting the HISTORY menu.
How is RocketX different:
RocketX is the only platform that aggregates liquidity across both CEXs & DEXs and has the most advanced routing algorithm to find the best route to complete the swap in the fastest time with minimal slippage and lowest gas fee by considering all the available options. 
Users can reap numerous benefits by accessing the interoperability to Moonbeam & Moonriver networks via RocketX, including: 
Increased liquidity:

Interoperability with multiple networks facilitates easy exchange of cryptocurrencies, resulting in increased liquidity for users.

Greater access to diverse assets:

By connecting to multiple networks, users can access a wider range of assets and potentially diversify their portfolios.

Improved speed and efficiency:

Interoperability enables faster and more seamless transactions between networks, thereby improving transaction speed and efficiency.

Reduced transaction costs:

Interoperability may lead to lower fees for users as they can take advantage of lower transaction costs on networks.

Enhanced security:

Interoperability with multiple networks can provide additional security for users as they can choose the network that best meets their needs and security requirements.

Intuitive interface:

RocketX's user-friendly interface makes it easy for users to access and utilize the Moonbeam & Moonriver networks.
What Did RocketX Achieve So Far:
RocketX currently supports:
11 wallets

28 blockchains

15,000+ tokens

250+ DEXs (21 DEXs & 21 Bridges are work-in-progress)

4 Top CEXs (2 more are Work-in-progress)
Please refer to "Roadmap" section of the website www.RocketX.exchange for complete details of what was achieved in 2022 and the plan for 2023. 
RocketX achieved below milestones:
Total volume > $23M

Total users > 2,600

Monthly volume > $2M
You may check the real-time stats here: https://rvfscan.io/activity/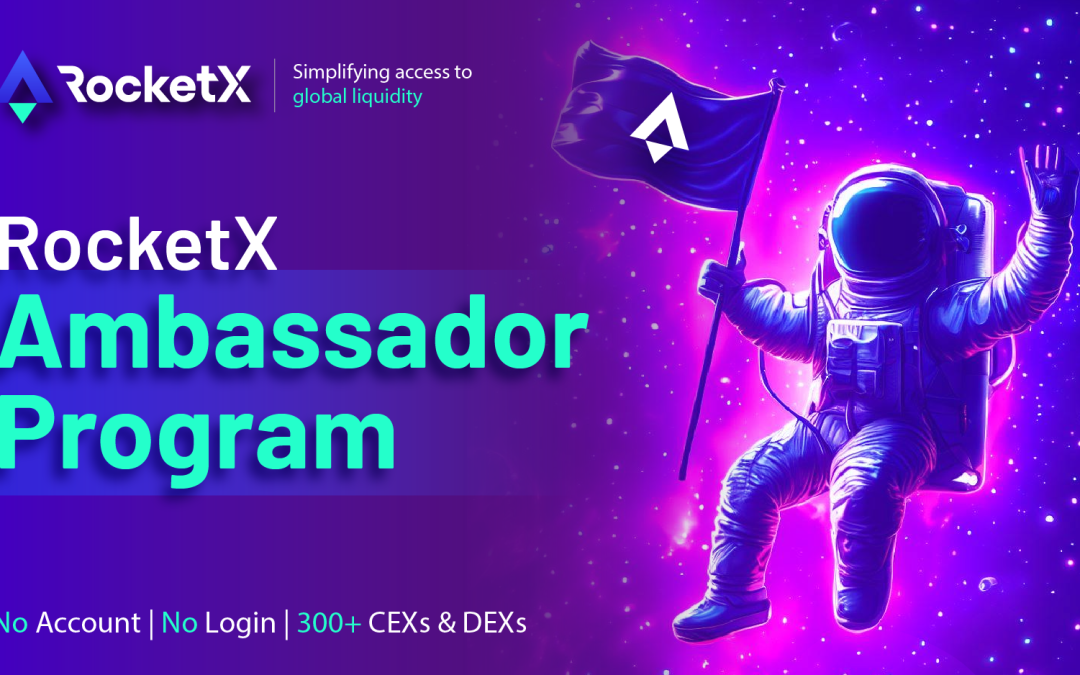 Introduction We are excited to introduce the RocketX Ambassador Program, an opportunity for you to earn $RVF while assisting RocketX in...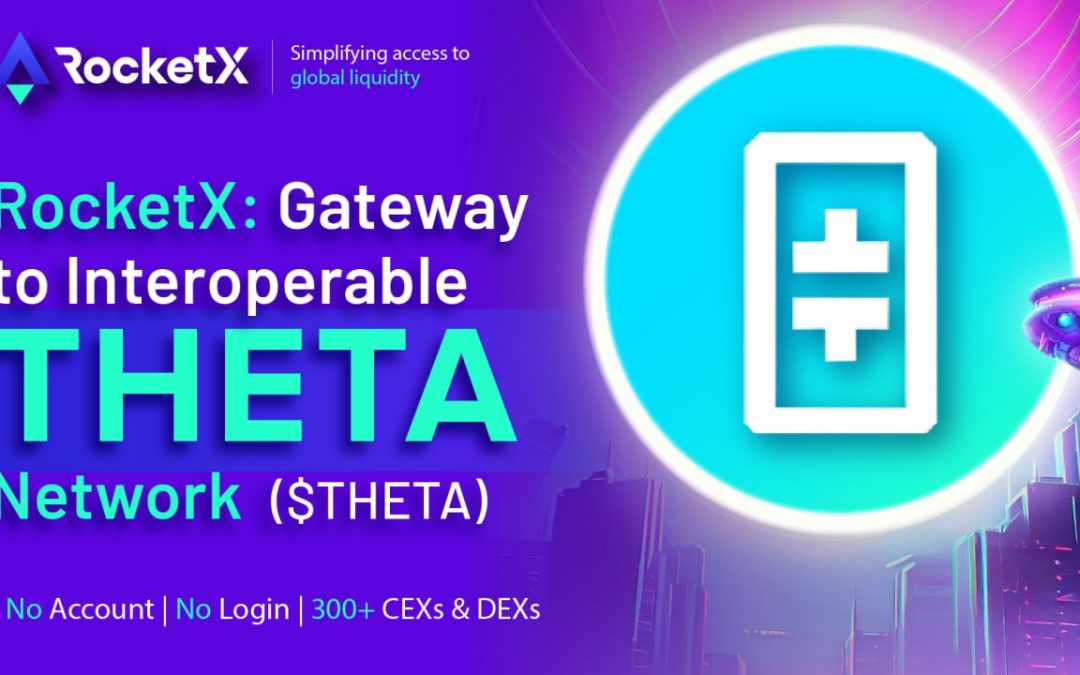 Introduction The media and entertainment industry is undergoing rapid transformation, as decentralized technologies emerge to revolutionize...