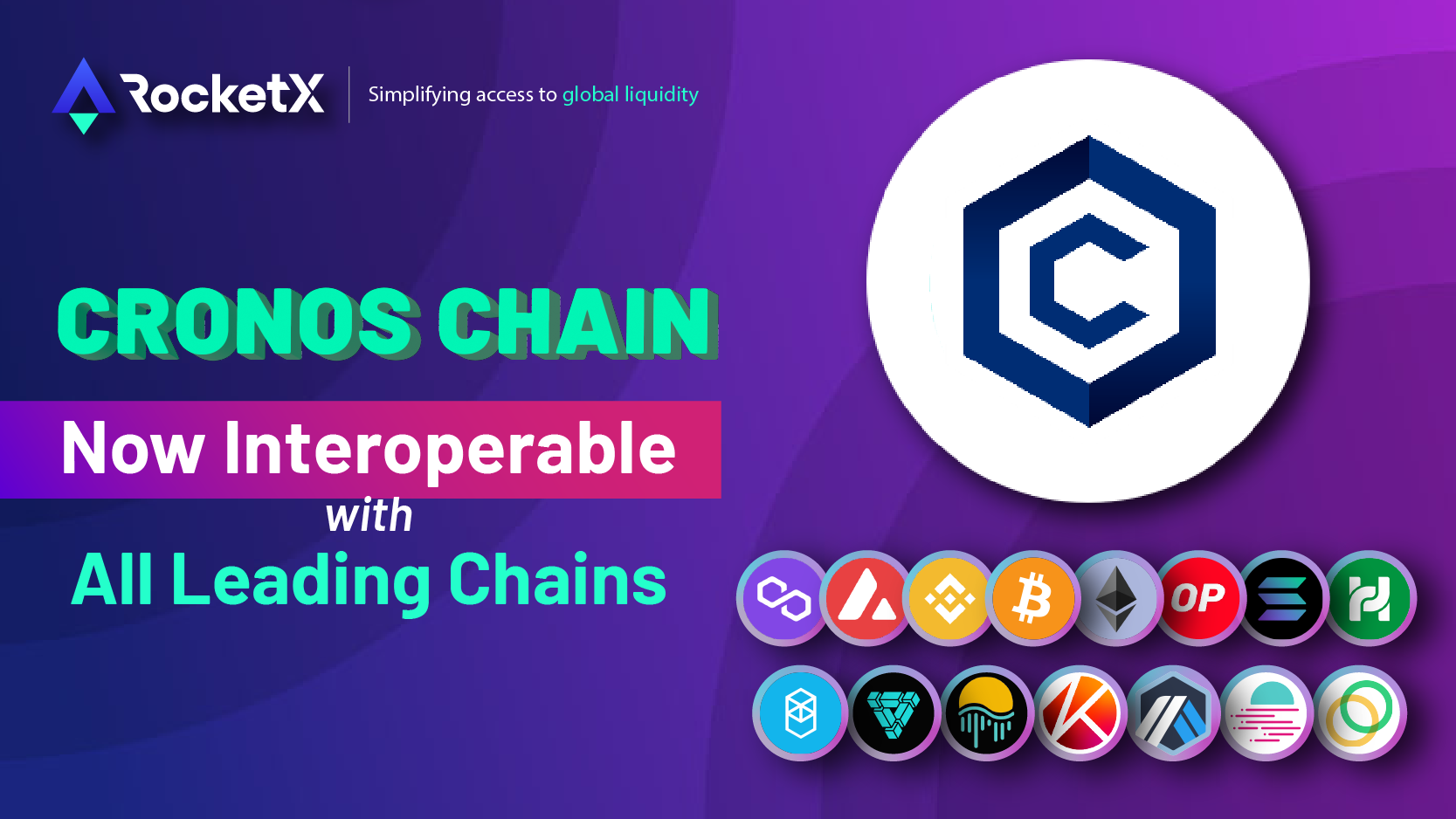 Cronos Chain is now LIVE on RocketX, the revolutionary decentralized hybrid exchange platform that allows users to seamlessly exchange cryptocurrencies between various networks, including Bitcoin, Ethereum, Polygon Matic, and 18 other major blockchain networks. By utilizing RocketX's proprietary 1-click cross-chain transactions, traders can easily and quickly swap cryptocurrencies on the platform, which has gained a reputation for being both cost-effective and fast. 
Through its mission to solve the issue of blockchain compatibility, RocketX has become a popular choice among crypto traders!
Why Cross-Chain Swap?
Looking to expand your cryptocurrency portfolio and access a wider range of DeFi services and products?
Cross-chain swaps could be the solution you're looking for! It allows you to easily exchange cryptocurrencies between different blockchain networks without the need for a third party. This is an important development for the DeFi ecosystem as it enables users to seamlessly transfer value between various platforms. By making the Cronos Chain interoperable with top blockchains like Bitcoin and Ethereum, RocketX is helping to promote the adoption and growth of DeFi.
Cronos Chain Is Now Interoperable with 20 Blockchains…
Bitcoin (BTC), Ethereum (ETH), BNB Chain (BNB), Polygon (MATIC), Avalanche (AVAX), Solana (SOL), Arbitrum, Optimism(OP), Fantom Network (FTM), KLAYTN (KLAY), Moonbeam (GLMR), Moonriver (MOVR), Celo (CELO), Dogecoin (DOGE), Litecoin (LTC), Bitcoin Cash (BCH), Tron Network (TRX), Cube Network (CUBE) and HECO Chain ( HT).
Exploring Types of Transactions on Cronos Chain with RocketX
  1. ✅ Cross-Chain Swap from/to Cronos Chain from different chains including Bitcoin, Polygon, Avalanche etc. in 1-click!
 2. ✅ Bridge from/to Cronos Chain at the lowest gas fees and in 1-click!
 3. ✅ On-Chain Swap on Cronos Chain directly from your favorite DeFi wallet.
6 Benefits to Crypto Traders with CRONOS Chain Interoperability via RocketX
There are several benefits to cross-chain transactions such as cross-chain swaps and bridging to tokens between chains, which can be achieved with Cronos Chain interoperability to networks like Bitcoin, Ethereum, Polygon, BNB Chain, and more through RocketX:
Increased liquidity: Interoperability with multiple networks allows for the easy exchange of cryptocurrencies, leading to increased liquidity for traders.
Greater access to a wider range of assets: By being able to connect with multiple networks, traders can access a wider range of assets and potentially diversify their portfolios.
Improved speed and efficiency: Interoperability allows for faster and more seamless transactions between networks, improving the speed and efficiency of trading.
Lower transaction costs: Interoperability may lead to reduced fees for traders as they can take advantage of lower transaction costs on certain networks.
Increased security: Interoperability with multiple networks can provide additional security for traders as they can choose the network that best fits their needs and security requirements.
User-friendly interface: RocketX has a user-friendly interface that makes it easy for traders to access and use the Cronos Chain.
Building an Interchain Web 3
RocketX is building an Interchain Web3 by serving as a hybrid CEXs (Centralized Exchange) and DEXs (Decentralized Exchange) aggregator. This means that it allows users to access both centralized and decentralized exchanges through a single platform, making it easier to trade cryptocurrencies and other digital assets.
By providing access to multiple exchanges, RocketX enables users to take advantage of the different features and benefits of each exchange, such as liquidity, fees, security, and the types of assets available. By aggregating multiple exchanges, RocketX helps facilitate the exchange of assets between different networks, leading to increased liquidity and access to a wider range of assets. Overall, RocketX is building an Interchained Web3 by enabling the easy exchange of assets between different networks and helping to create a more interconnected cryptocurrency ecosystem.
What is Cronos?
Cronos is a blockchain network that is interoperable with Ethereum and Cosmos-based systems, enabling the easy transfer of Ethereum smart contracts and decentralized apps (dApps). It also allows for Inter-Blockchain Communications (IBC) through the Cosmos SDK. Launched on November 8th, 2021, Cronos operates alongside the Crypto.org blockchain, which powers the Pay feature of Crypto.com.
Crypto.com, the company behind both blockchains, has a long history in the cryptocurrency industry, having been founded in June 2016 by Kris Marszalek, Rafael Melo, Gary Or, and Bobby Bao under the name Monaco Technology GmbH. The company's platform token, originally called Monaco Coin (MCO), was later rebranded to CRO (Crypto.com Coin) when the company changed its name to Crypto.com. With the launch of the Crypto.org blockchain, the token was renamed to Cronos, but the ticker symbol CRO was retained.
Top Features of Cronos Chain
Some of the key features of the Cronos Chain include its foundation on Ethermint, a scalable and high-capacity blockchain framework that is fully compatible with Ethereum. This sets Cronos apart from the Crypto.org blockchain, which is not built on Ethermint and does not support apps designed for the Ethereum Virtual Machine (EVM) platform or related frameworks. As a result, Cronos is able to offer compatibility with Ethereum and the ability to easily port decentralized apps (dApps) created with the Solidity programming language. Additionally, Cronos is highly scalable and efficient, making it an attractive option for developers and users.
How To Set Up MetaMask for Cronos Network — EVM Chain 
Step 1: Set up your MetaMask. If you have not downloaded MetaMask, you can head to the MetaMask website to download the browser extension.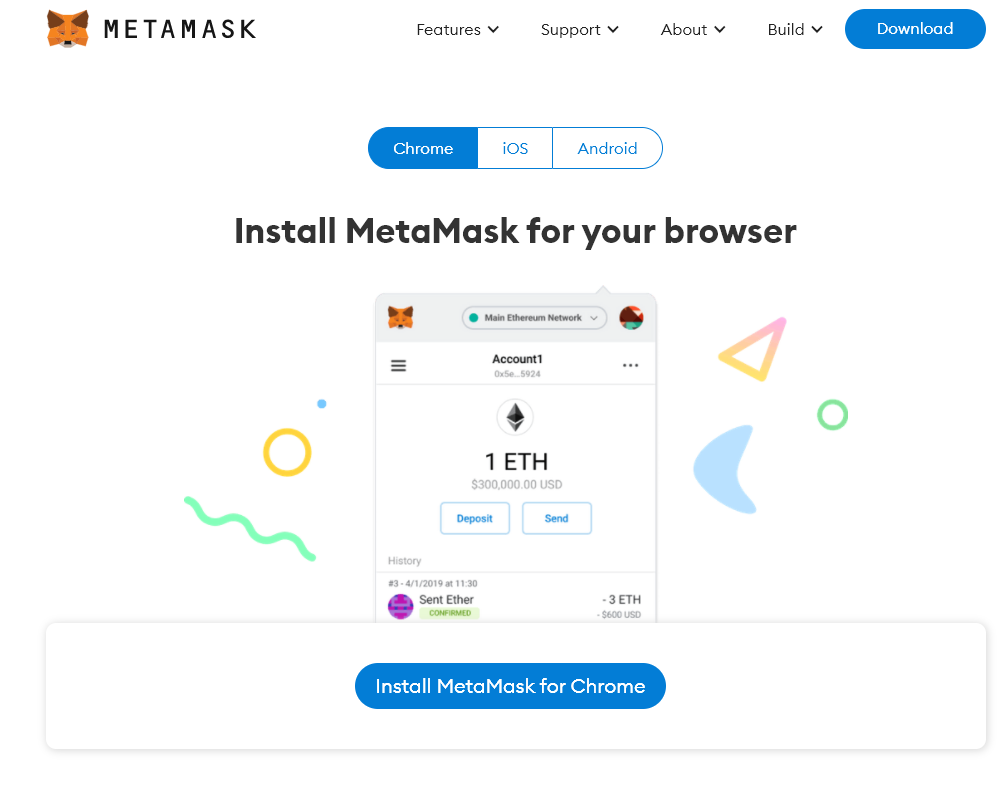 Step 2: Navigate to App.RocketX.exchange
Click on the 'Connect Wallet' button. In the pop-up screen, select Cronos Chain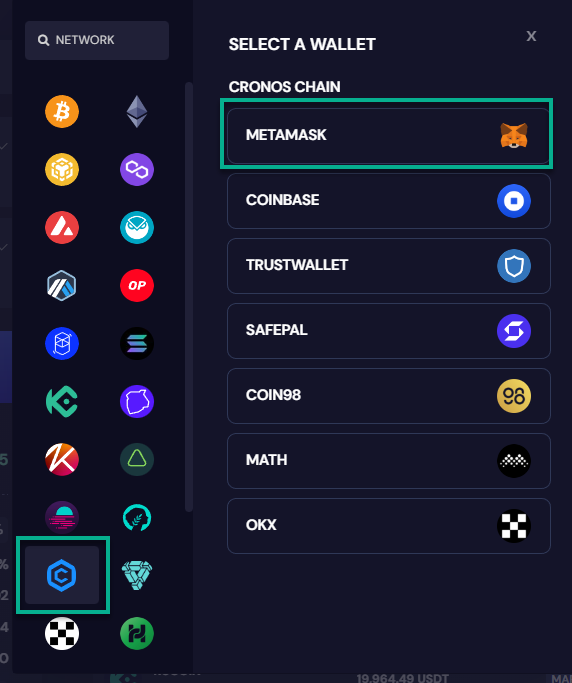 Step 3: Approve RocketX to add CRONOS Chain to MetaMask.
In the MetaMask pop-up screen, click on the "Approve" button so that the Cronos Network could be added to your MetaMask wallet.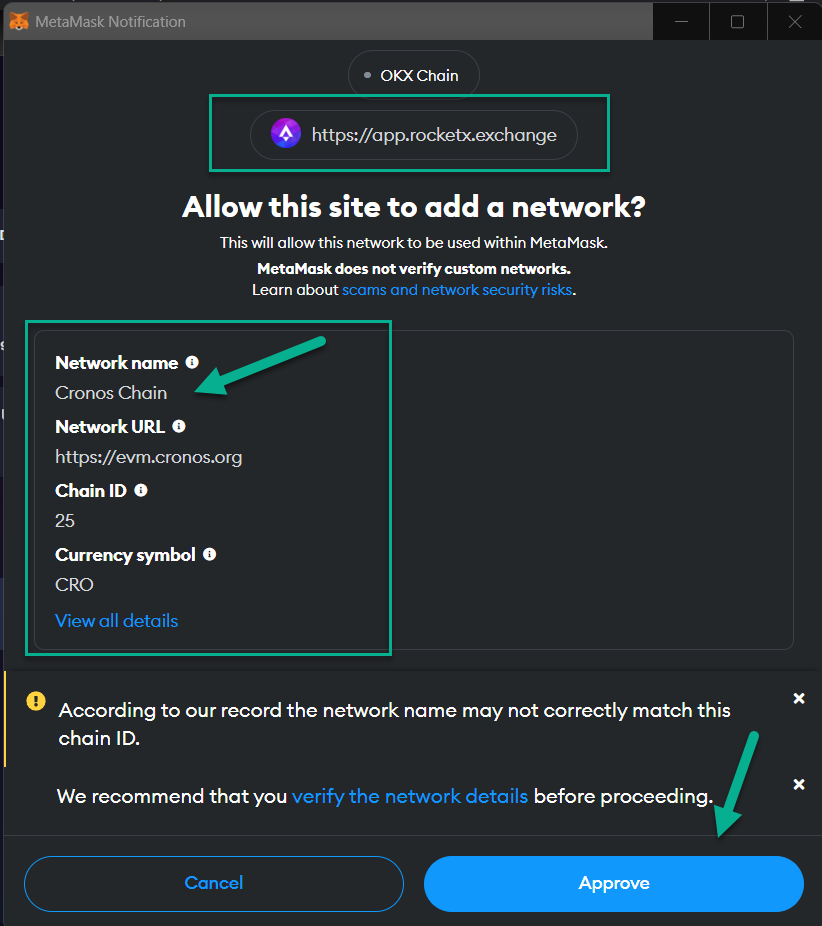 Step 4: Allow RocketX to switch from the current network to Cronos Chain.
In the MetaMask pop-up screen, allow RocketX to switch from your current network (in this example it is OKX Chain) to Cronos Chain. Click on the " Switch network" button.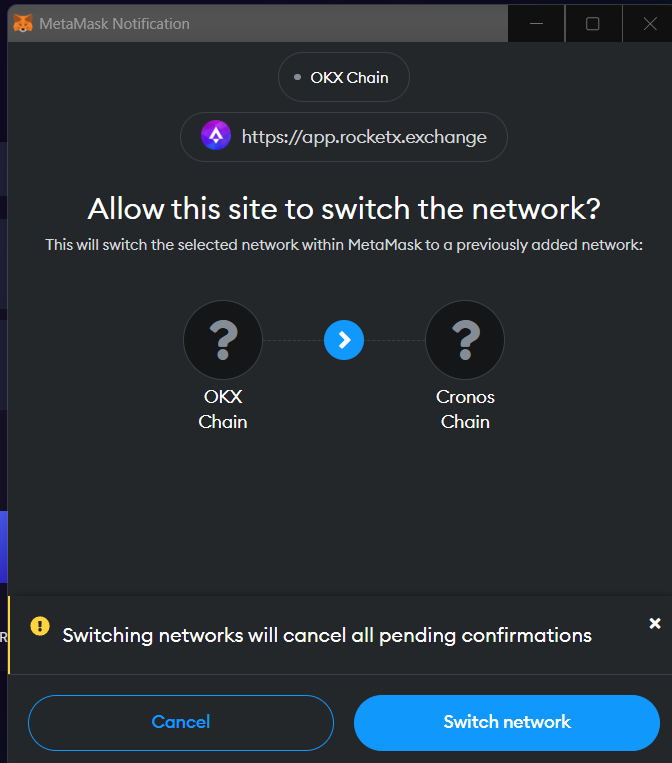 Once connected to the Cronos Chain, you will see the Cronos Chain logo on the RocketX app.

Adding Cronos Mainnet to MetaMask – Manually
To add Cronos into your MetaMask wallet, you will require Cronos network information like the RPC URL and Chain ID. This information can be obtained from various sources, however, it is recommended to obtain them from the official documentation of the chain. Additionally, for convenience, the information is provided as follows:
https://evm.cronos.org for

 

New RPC URL; and
25 for

 

Chain ID, CRO for the symbol, and
Now, simply add this info in the various placeholder boxes.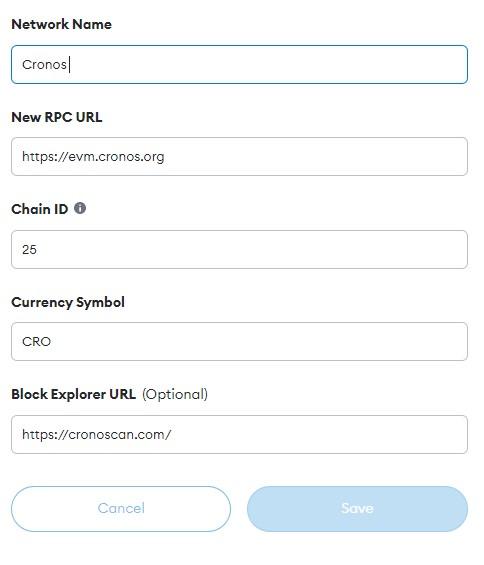 Add Cronos Testnet to MetaMask
If you are new to the Cronos network and wish to familiarize yourself with its functionality and the dApps built on it, you can add a testnet version to your MetaMask wallet. The process for adding a testnet network is the same as adding a mainnet network, however, the network details will be different.
To add the Cronos testnet to your MetaMask wallet, use the following network details.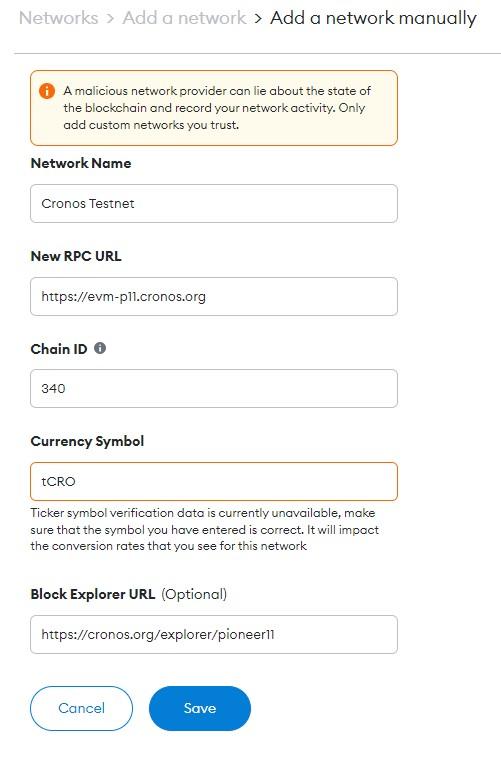 Final Thoughts on the Importance of Cronos Chain Interoperability to the DeFi space:
Cronos Chain interoperability via RocketX is important to the DeFi (Decentralized Finance) community as it enables the easy exchange of assets between different networks, leading to increased liquidity and access to a wider range of financial products and services. This increased accessibility can help drive the growth and adoption of DeFi, as traders and investors can more easily participate in decentralized financial transactions.
In addition, the use of RocketX can reduce transaction costs and improve the speed and efficiency of DeFi transactions, making it a more attractive option for users. Overall, the interoperability of CRONOS Chain via RocketX can help facilitate the continued growth and development of the DeFi ecosystem.