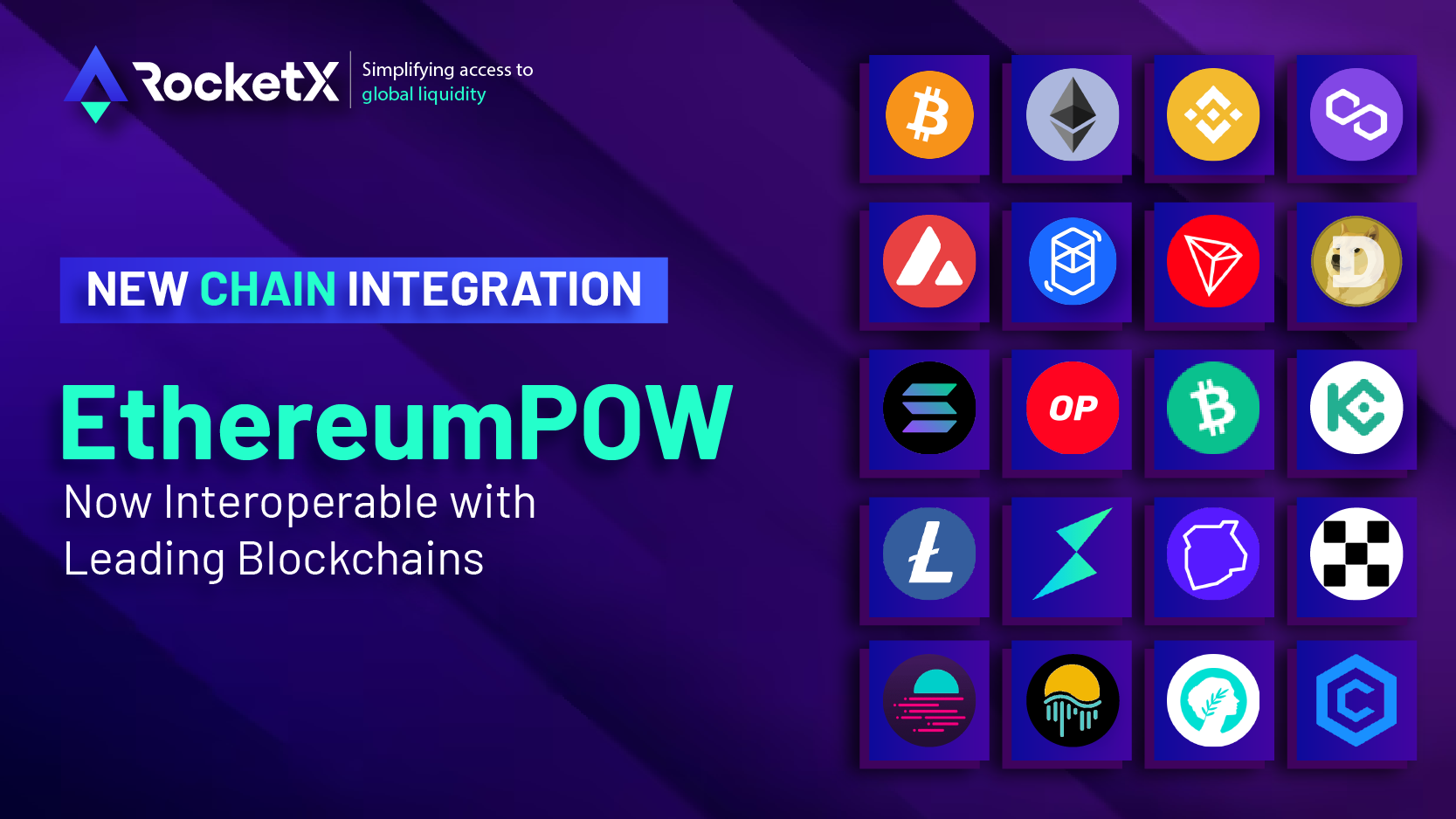 EthereumPOW (ETHW) Enters into a Strategic Partnership with RocketX to Simplify Access to Liquidity Across Both CEX & DEX
Exciting news for crypto enthusiasts! The highly anticipated EthereumPoW (ETHW) mainnet has just landed on RocketX, a cutting-edge decentralized exchange platform that simplifies the process of exchanging cryptocurrencies. 
The platform offers one-click cross-chain transactions, which means you can swap between different cryptocurrencies quickly and easily. And the best part? It's fast and cost-effective, which has helped RocketX establish a reputation as a user-friendly platform that eliminates the compatibility challenges other blockchain networks face.
Your content goes here. Edit or remove this text inline or in the module Content settings. You can also style every aspect of this content in the module Design settings and even apply custom CSS to this text in the module Advanced settings.
With cross-chain swaps, you can access a wider range of DeFi services and products without involving a third party. This is a game-changer for the DeFi ecosystem, allowing users to transfer value seamlessly between various platforms. 
By making the EthereumPoW (ETHW) mainnet compatible with other leading blockchains like Bitcoin and Ethereum, RocketX is taking DeFi adoption to new heights. Don't miss out on this significant step forward in the world of decentralized finance. Join RocketX today and experience the benefits for yourself!
Unleash the Full Power of EthereumPOW (ETHW) on RocketX
Discover the limitless possibilities with EthereumPOW (ETHW) on RocketX. These game-changing options await you:
Users can

compare prices on both CEX & DEX

, to enjoy the best prices for every swap.

 Swap on CEX from DeFi wallet and

own your assets

💯%

Experience the convenience of

1-click cross-chain swaps

. Effortlessly exchange cryptocurrencies like Bitcoin, Polygon, Avalanche, and more to EthereumPOW (ETHW) on RocketX.

Access EthereumPOW (ETHW) tokens with minimal fees and ease

.
Unleash the potential of EthereumPOW (ETHW) token on RocketX and take control of your crypto assets today!
Benefits of EthereumPOW (ETHW) Interoperability via RocketX
Ready to supercharge your crypto experience?
Accessing the interoperability of EthereumPOW (ETHW) via RocketX comes with a host of benefits, including:
Liquidity Boost:

Interoperability with tokens from multiple networks means easy and efficient exchange of cryptocurrencies, resulting in increased liquidity for you.

Diverse Asset Access:

Connect to multiple networks and expand your portfolio with access to a wider range of assets.

Swift Transactions:

Interoperability enables faster and smoother transactions between networks, enhancing the speed and efficiency of your transactions.

Lowered Costs:

Take advantage of lower transaction fees on networks and save big with interoperability.

Secure Investments:

Interoperability with multiple networks offers added security for your investments, allowing you to choose the network that best fits your security needs.

Effortless Navigation:

RocketX's intuitive interface makes accessing and utilizing the EthereumPOW (ETHW) token a breeze.
Unlock the full potential of EthereumPOW (ETHW) token interoperability on RocketX today!
What is EthereumPOW (ETHW)?
The Ethereum network recently underwent an upgrade called "The Merge", which aimed to improve the energy efficiency of the cryptocurrency. The upgrade replaced miners with validators who stake Ether to secure the network. However, prior to The Merge, a hard fork of the Ethereum network called ETHW was created, which still uses the old PoW consensus mechanism. This led to a victory for ETH miners.
The creator of ETHW is Chinese miner Chandler Guo, who opposed the new PoS consensus method and launched a PoW-based Ethereum blockchain. While this victory may have pleased miners, ETHW users faced accessibility issues due to conflicting chain IDs. The ETHPoW chain ID (10001) was already in use by a Bitcoin Cash testnet, causing confusion for MetaMask wallet users.
ETH vs ETHW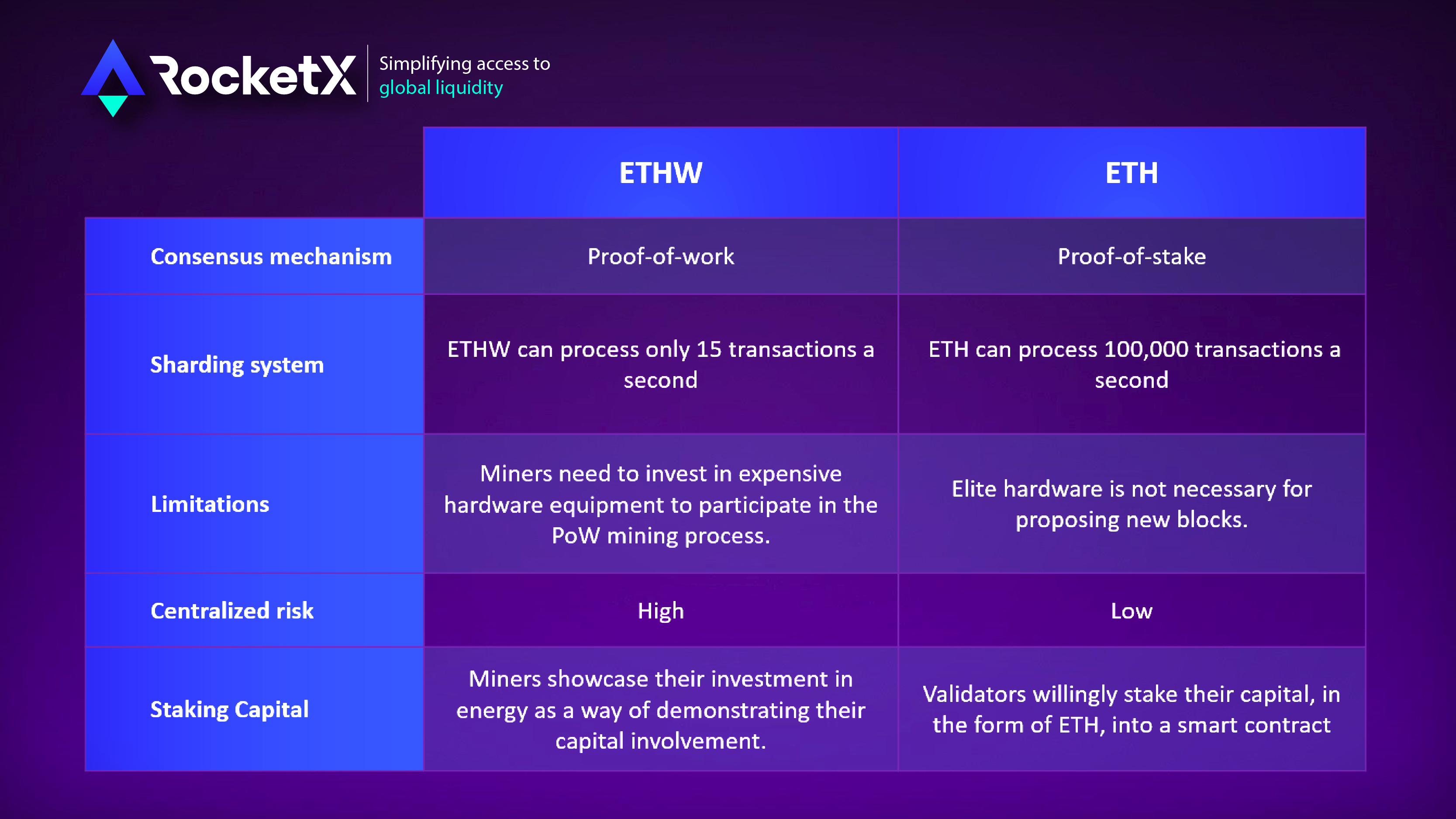 How to Connect MetaMask to EthereumPOW (ETHW)
To get started with MetaMask, you will first need to install the extension. This can be done by visiting the Chrome store and searching for MetaMask. Once you have found it, you can add it to your browser.
If you need assistance with the installation process, there are tutorials available in the official MetaMask documentation. Once you have the extension installed, you can proceed to create an account. 
It is important to remember to keep your mnemonic/secret-phrase safe.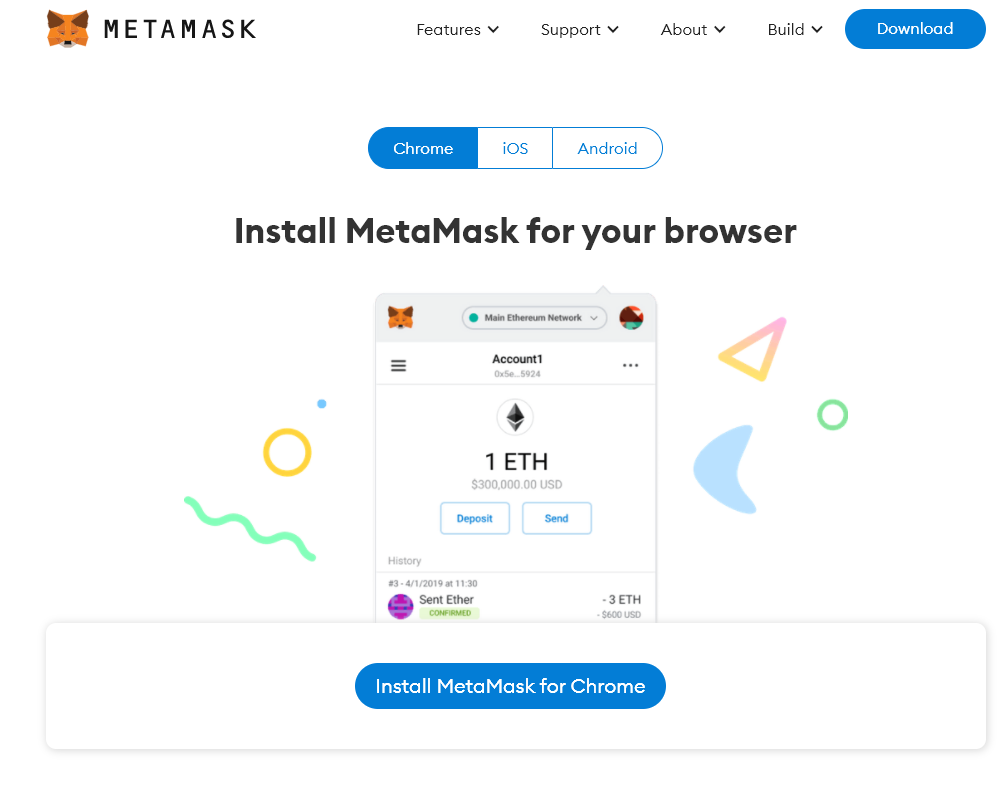 Step 1: Navigate to App.RocketX.exchange
Click on the 'Connect Wallet' button. In the pop-up screen, select EthereumPOW (ETHW) mainnet.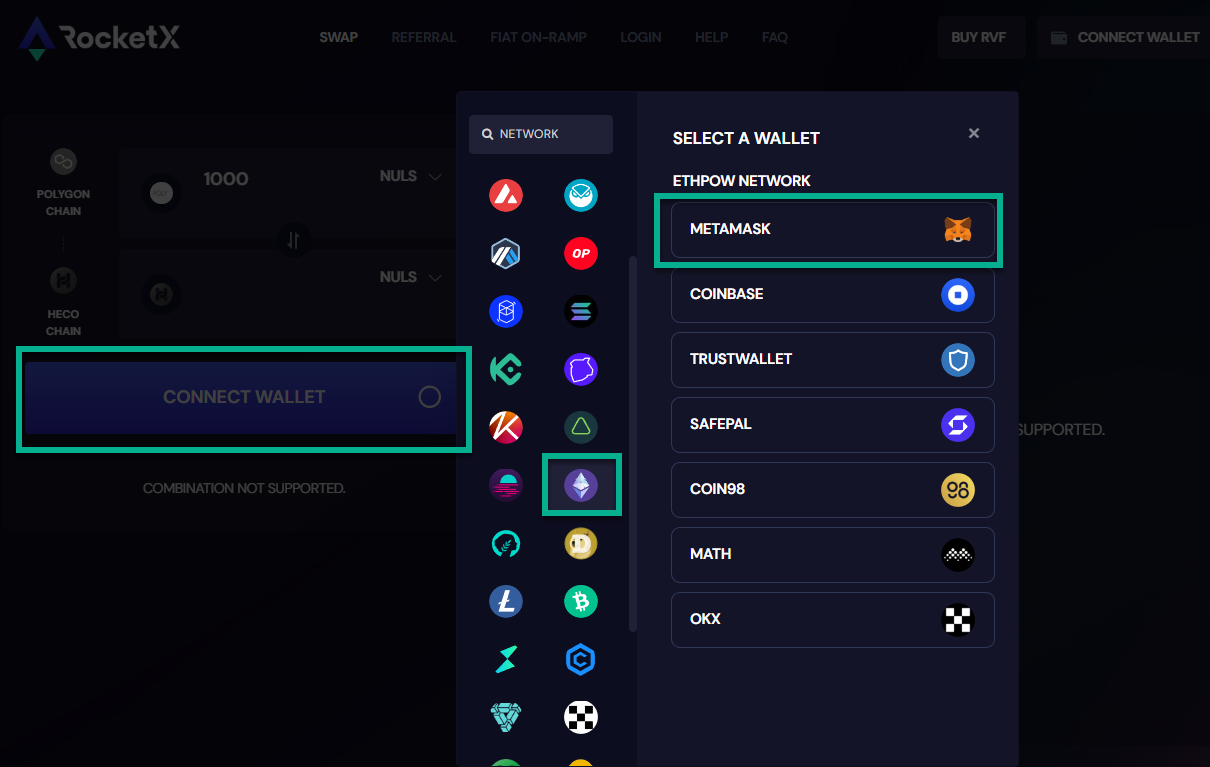 Step 2: Approve RocketX to add EthereumPOW mainnet (ETHW)
In the MetaMask pop-up screen, click on the "Approve" button so that the EthereumPOW mainnet (ETHW) could be added to your MetaMask wallet.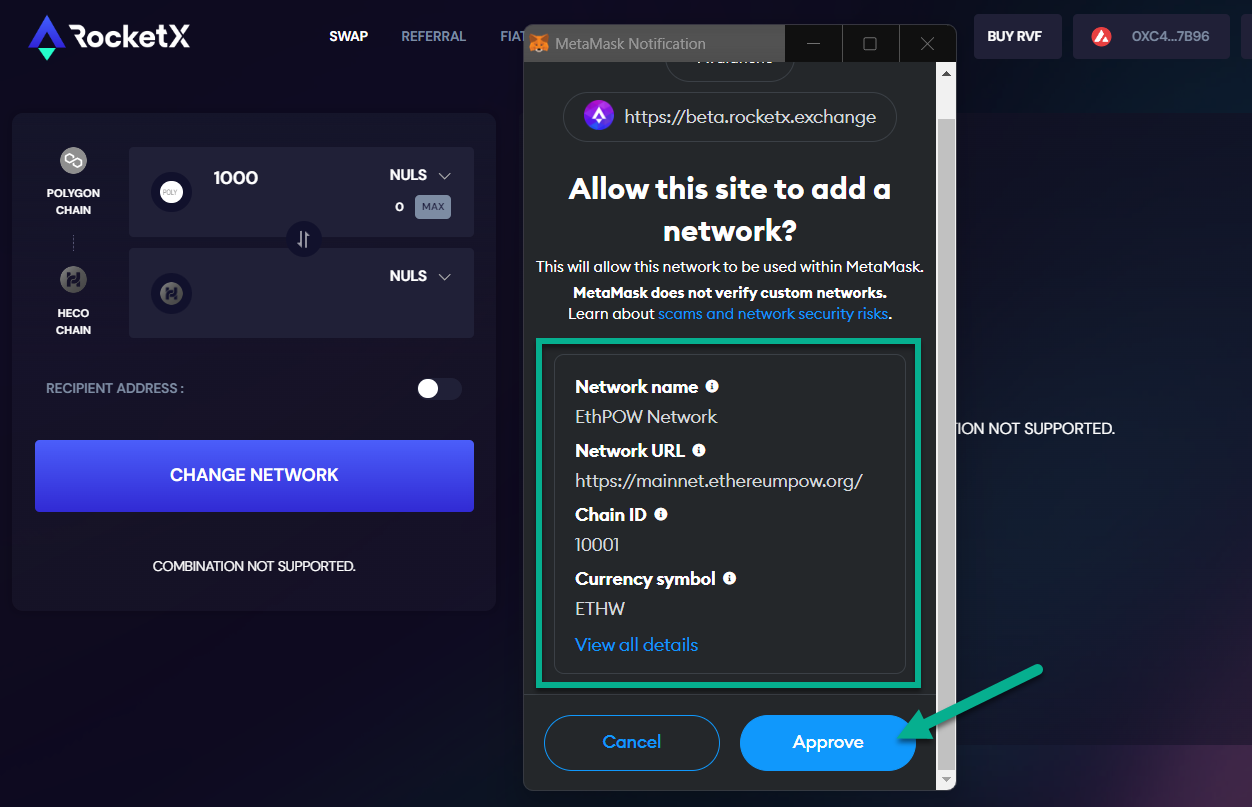 Step 3: Allow RocketX to switch from the current network to EthereumPOW mainnet
In the MetaMask pop-up screen, allow RocketX to switch from your current network (in this example it is Avalanche) to EthereumPOW mainnet (ETHW). Click on the "Switch network" button.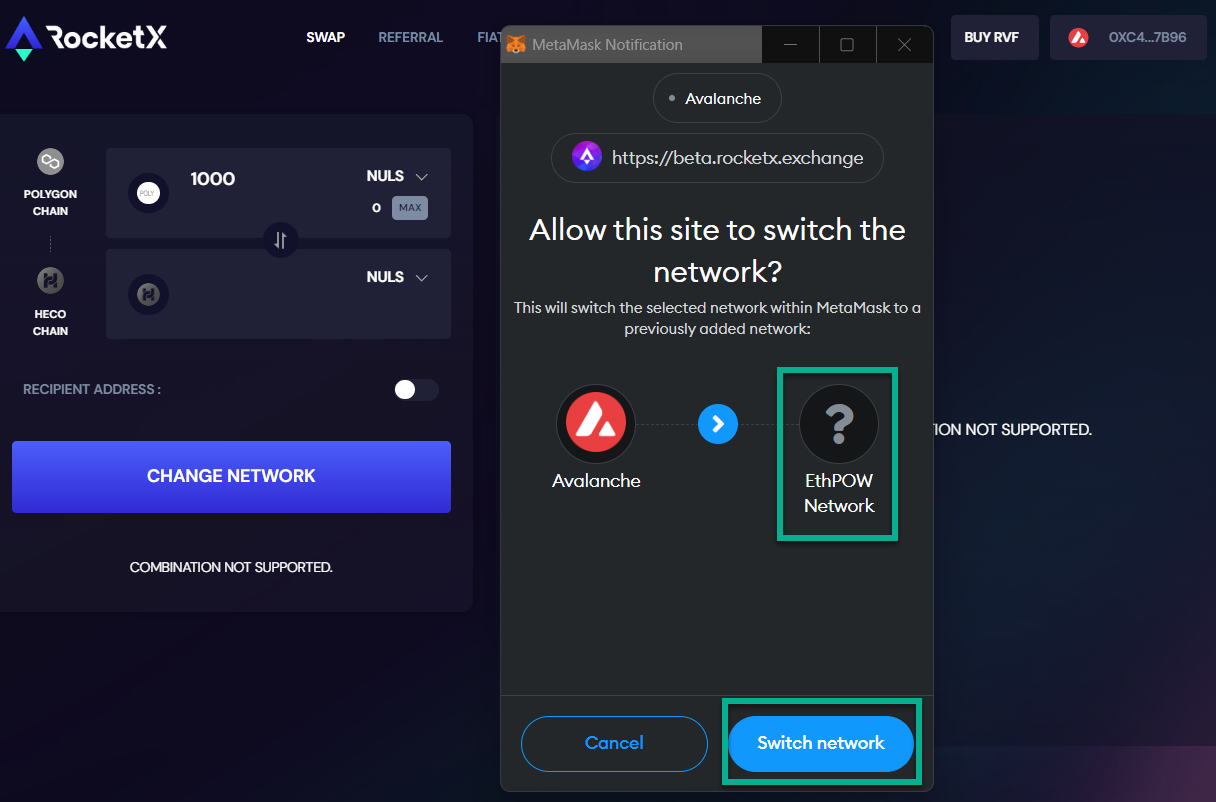 EthereumPOW Connects to MetaMask
Once connected to the EthereumPOW mainnet, you will see the  EthereumPOW Network logo on the RocketX app.

Adding EthereumPOW to MetaMask – Manually
To add the EthereumPOW mainnet into your MetaMask wallet, you will require EthereumPOW mainnet information like the RPC URL and Chain ID. This information can be obtained from various sources, however, it is recommended to obtain them from the official documentation of the chain. Additionally, for convenience, the information is provided as follows:
Network name — ETHW-mainnet
New RPC URL — https://mainnet.ethereumpow.org
Chain ID — 10001
Currency Symbol — ETHW
Block Explorer URL — https://mainnet.ethwscan.com
About RocketX
RocketX is the most advanced hybrid CEX & DEX aggregator that makes it easy to compare prices across 250+ exchanges to help traders with the best prices with every Swap while enjoying 100% ownership of their digital assets.
For dApps & institutions, we act as a middleware by simplifying access to global crypto liquidity via a single API for in-app crypto swaps with best prices and 1-click cross chain capabilities.
We are on a mission to enhance interoperability between blockchains and drive mass adoption of crypto by simplifying access to all leading blockchains via single UI and API.
Conclusion:
The incentive structure of the PoW consensus scheme demands that miners perform an enormous amount of hashes to get the first usable block hash, which eventually leads to excessive energy use. Furthermore, as the network's processing power grows, the block hash difficulty adjusts upward, causing a surge in the network-wide hash rate.
The energy consumed by unsuccessful miners becomes wasted, so Ethereum has switched to a proof-of-stake consensus mechanism. Although ETHW attracts miners who have already invested in hardware mining equipment, the PoS consensus method is less energy-intensive and allows networks to scale inexpensively.
Proof-of-stake is still relatively new, but it has the potential to revolutionize blockchain security and make mining obsolete. However, whether the PoS consensus algorithm will completely eliminate PoW mining remains to be seen.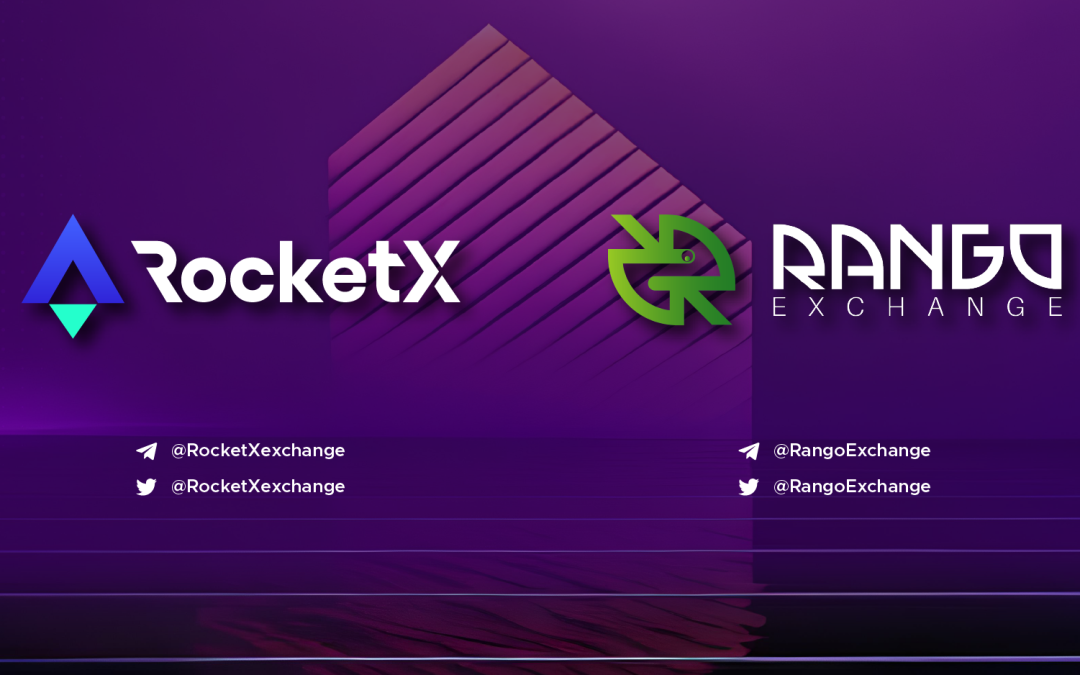 RocketX and Rango Join Forces to Offer Seamless Crypto Swapping  RocketX, a leading decentralized, hybrid (CEX & DEX) exchange...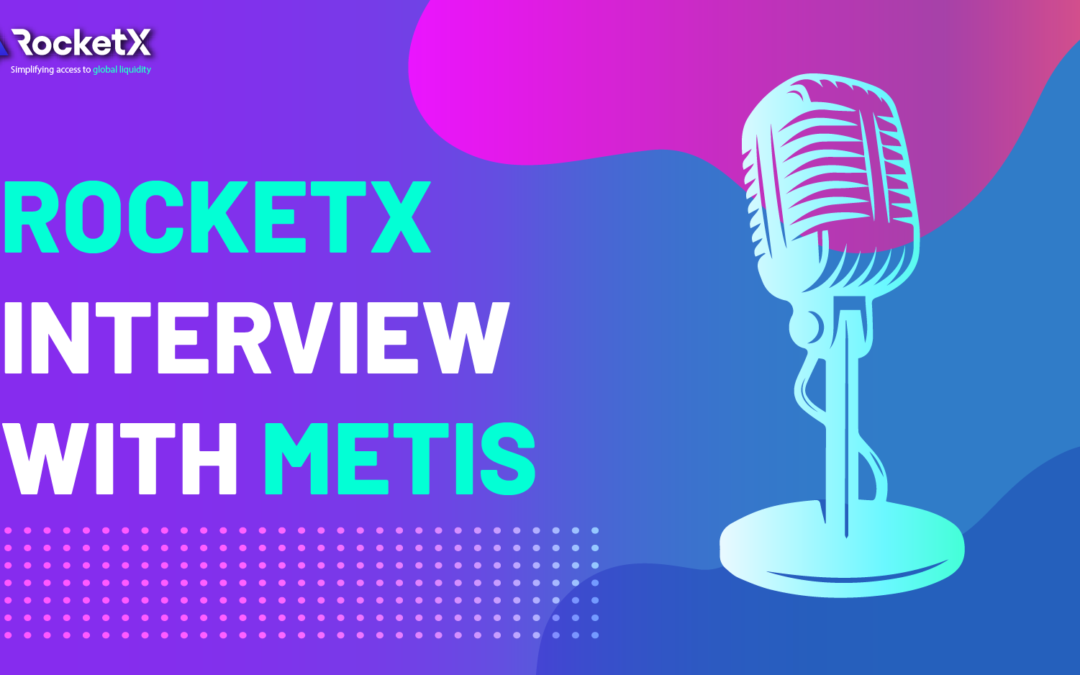 RocketX Interview with Metis Andromeda | IMPROVING Interoperability Between BlockchainsHere's a transcript from the RocketX interview with the Metis...