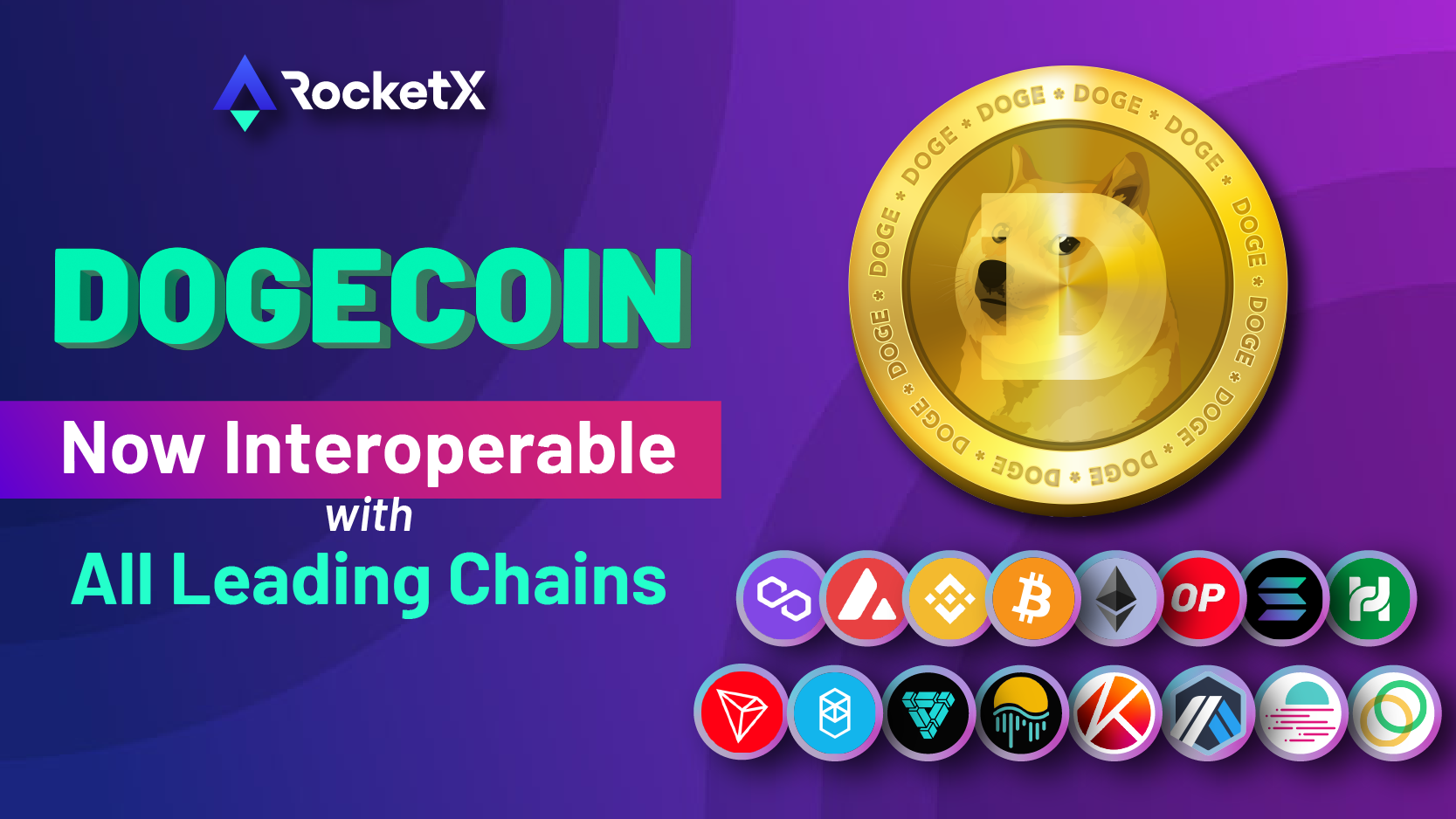 DOGE Meets Decentralization: RocketX Integrates Dogecoin for Seamless Swaps
RocketX has taken the cryptocurrency world by storm with its latest addition to its platform: DOGE. Now, users can seamlessly swap their DOGE with other supported assets such as BTC, ETH, and MATIC with just one click, all on a single interface.
RocketX: The Decentralized Aggregator Combining Liquidity of CEXs and DEXs
As a decentralized aggregator, RocketX combines the liquidity of both centralized and decentralized exchanges to provide users with a unique platform that supports over 25 different blockchains. With more than $21 million in processed trading volume, RocketX has established itself as a leader in the crypto space. The integration of DOGE was driven by the increasing demand from its community.
DOGE holders can now enjoy the following benefits on RocketX
Swap DOGE with any of the supported 15000+ tokens.
Bridge DOGE securely, in just 1-Click and low fees.
Achieve better returns with RocketX's advanced algorithms and deep liquidity sources.
Benefit from the interoperability of DOGE with 20+ blockchains, opening up new arbitrage opportunities and potentially reducing transaction fees.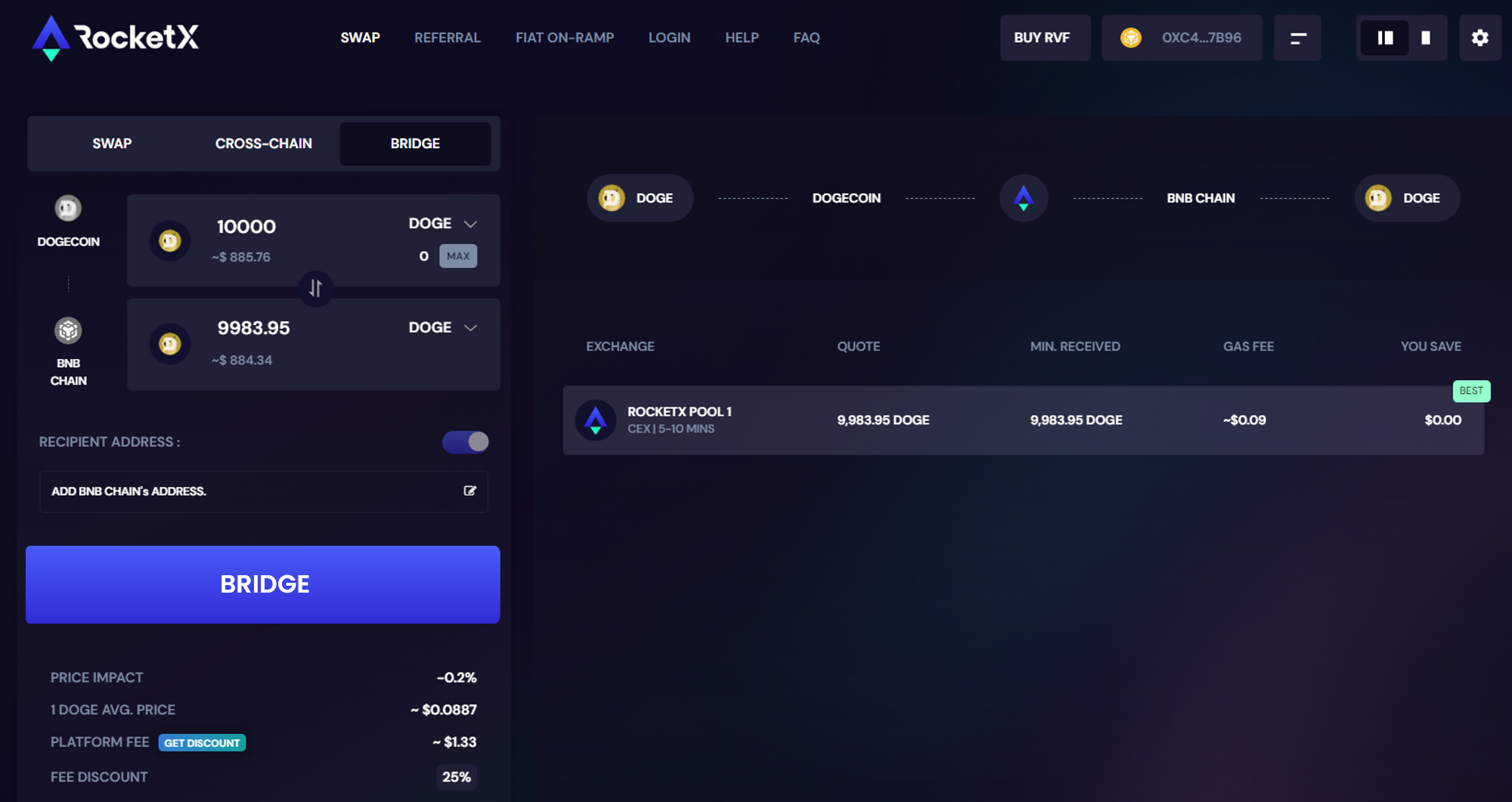 Bridge DOGE at the click of a button!
Dogecoin's Rise and its Impact on the Crypto Community with RocketX
The rise of Dogecoin has captured the attention of the cryptocurrency world, solidifying its place as one of the top 10 most valuable cryptocurrencies by market cap. Adding Dogecoin to the RocketX platform is a game-changer for the Dogecoin community, offering a comprehensive hub for accessing both CEXs and DEXs in a decentralized manner. With the integration, users will no longer have to navigate from one exchange to another in search of the best exchange rates. Instead, they can enjoy a seamless one-stop solution for exchanging Dogecoin with other assets.
Dogecoin Vs. Bitcoin
Dogecoin is a cryptocurrency that stands out from Bitcoin in several ways. One of the key differences is the faster processing time for transactions. Unlike Bitcoin, which takes 10 minutes to validate a new block, Dogecoin only takes 1 minute to confirm a transaction. This makes Dogecoin a more efficient option for those looking for a quicker payment option.
Another unique aspect of Dogecoin is its unlimited supply. Unlike Bitcoin, which has a capped limit of 21 million coins, Dogecoin has no limits on the number of coins that can be created. This means that miners don't have to work harder and longer over time to earn new coins, which makes Dogecoin a more accessible option. But, it also raises questions about the cryptocurrency's ability to maintain its value in the long term.
As Gary DeWaal, Chair of Katten's Financial Markets and Regulation group stated,
"The minute-long validation process on the Dogecoin blockchain sets it apart from the 10-minute process on the Bitcoin blockchain."
With these differences in mind, it's important to weigh the pros and cons of each cryptocurrency before making a decision.
Connecting XEDFI Wallet to DOGE Network
Setup XDEFI Wallet
Set up your XDEFI wallet. If you have not downloaded XDEFI, you can head to their official website to download the browser extension.
Connect XDEFI Wallet to Dogecoin Network
Click on the 'Connect Wallet' button. In the selection screen, select Dogecoin Network and XDEFI wallet.
Dogecoin Network on XDEFI Wallet is Connected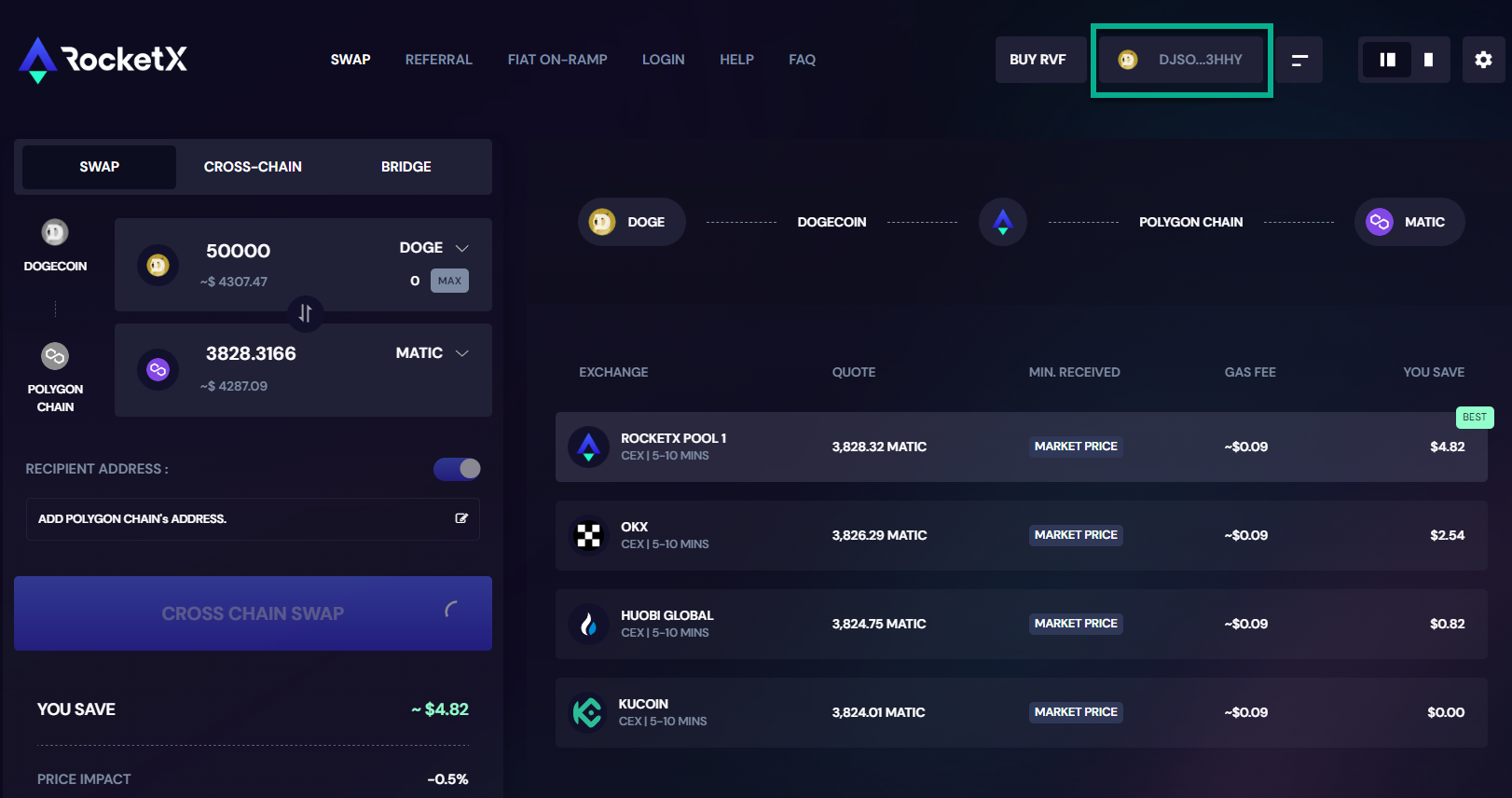 Once connected, the Dogecoin network will show up in the top right corner with the corresponding address.
💡Note: Network selection is only required for EVM chains in XDEFI (or other multichain wallets). Non-EVM chains like 'Dogecoin' or 'Bitcoin' doesn't need to be selected explicitly in XDEFI wallet, for the user to be able to do transactions on them. Just make sure Dogecoin network is displayed as shown in the image.
Conclusion
RocketX revolutionizes the world of crypto trading by serving as a hybrid CEX and DEX aggregator. It leverages the power of cutting-edge technology to compare prices across 250+ exchanges, providing traders with the most optimal prices for each swap while maintaining 100% self-custody over their digital assets.
The platform is also a valuable solution for dApps and institutions, offering a single API for accessing global crypto liquidity and allowing for in-app crypto swaps and cross-chain capabilities with just one click.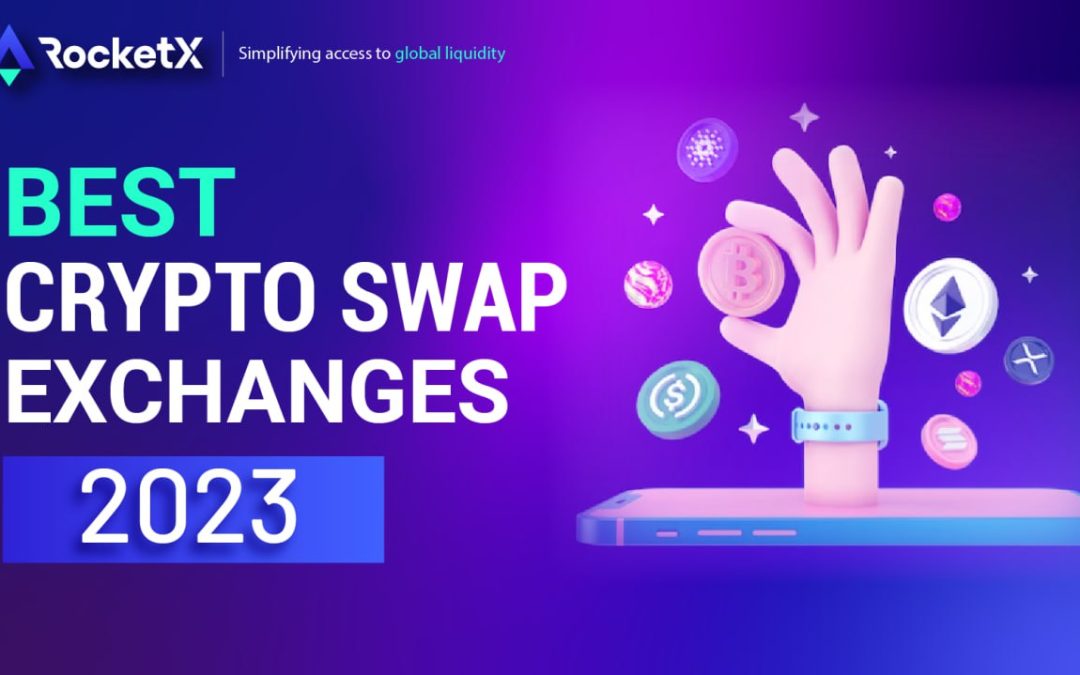 What Are Crypto Swap Exchanges? Crypto swap exchanges are online platforms that enable users to exchange one cryptocurrency for another....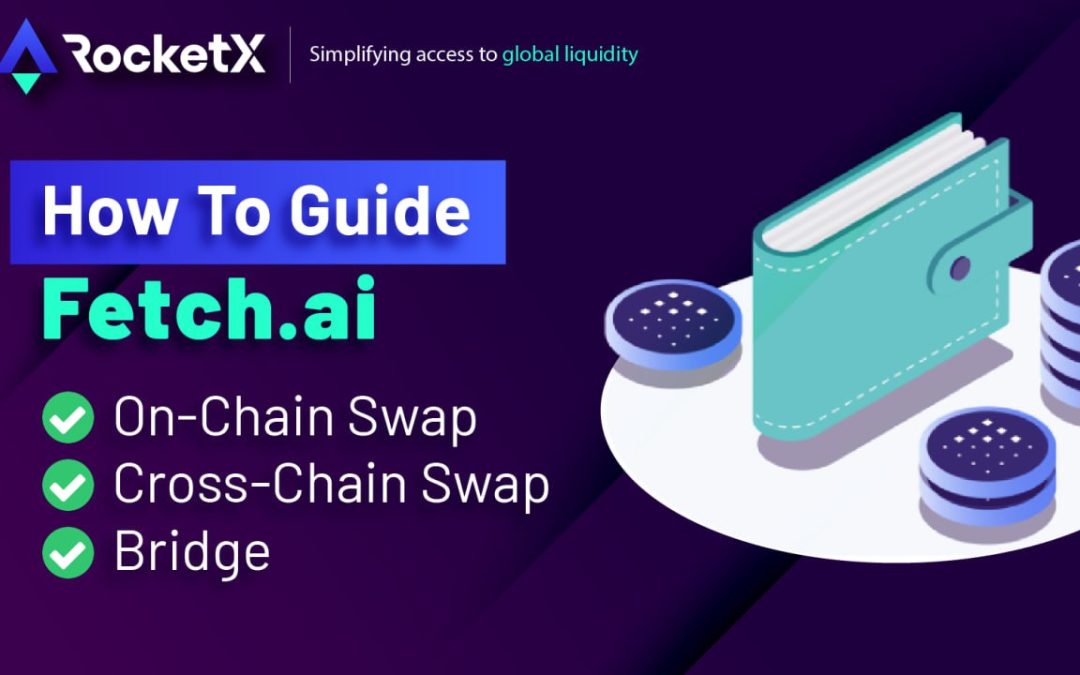 This article is a guide on swapping, bridging, and cross-chain swapping Fetch.ai on RocketX, a platform that aggregates 270+ exchanges to...