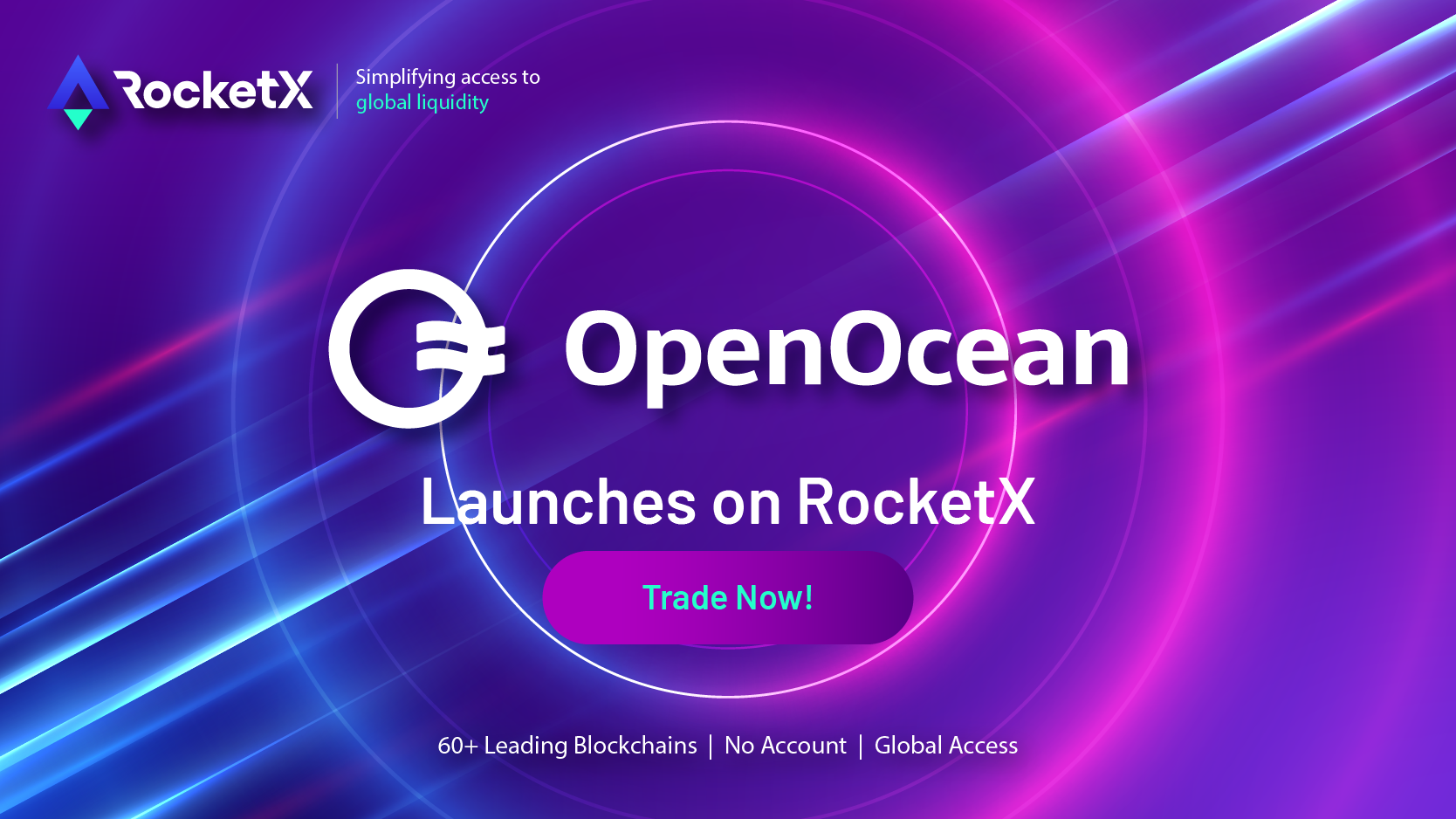 RocketX Integrates OpenOcean for Unbeatable Prices and Streamlined Trading
Exciting news for crypto traders! RocketX Exchange, the top hybrid exchange, has just integrated OpenOcean, the ultimate DEX aggregator. This integration takes RocketX to a whole new level, providing unmatched liquidity and its already impressive list of 270+ CEXs and DEXs. If you're looking for a seamless trading experience, RocketX with OpenOcean integration is your go-to platform!
What does this integration mean for traders? It means that RocketX is now a one-stop shop for all your crypto trading needs. With access to more than 270 CEXs and DEXs, and the best price for every swap, RocketX is the most convenient and efficient platform out there. Plus, enhanced security ensures your assets are safe at all times.
But that's not all! The integration of OpenOcean with RocketX brings some significant benefits to traders. You'll enjoy faster trade execution, better prices, and less slippage. Plus, with OpenOcean's advanced algorithm, you'll always get the best deal, regardless of the trading pair or token.
Benefits of OpenOcean Integration to Crypto Traders
Best of Both Worlds:

Enjoy the benefits of OpenOcean along with 5 top-tier Centralized and over 270 Decentralized exchanges.

Compare and Trade on OpenOcean:

Use your DeFi wallets to trade on OpenOcean alongside 270+ other exchanges

Low Fees and Best Rates:

Take advantage of OpenOcean's competitive rates and low fees

Unmatched Liquidity:

Access liquidity from multiple exchanges without moving funds, saving time and money

Best Price for Every Swap:

Enjoy even more competitive prices with RocketX and OpenOcean integration

Enhanced User Experience:

Execute trades seamlessly on multiple exchanges with one streamlined platform

1-Click Multi-Chain Trading Simplified!
Why Are We Excited?
"Glad to help RocketX, the hybrid aggregator, to reach a wider liquidity source in the DeFi space and super excited  to bring users the best swap rates in the market!"
– Cindy, Co-Founder OpenOcean

"At RocketX, we believe in the power of interoperability and seamless trading experiences. With our integration of OpenOcean, we are taking another step towards providing unparalleled liquidity and the best prices for every swap. Join us on this journey towards the future of crypto trading!" 
– Davinder Singh, Co-Founder and CTO
Conclusion
In summary, the integration of OpenOcean with RocketX Exchange is a game-changer for the crypto industry. With unparalleled liquidity, enhanced security, and a seamless trading experience, RocketX is quickly becoming the top choice for traders. And the team at RocketX is committed to delivering even more exciting developments in the coming months. Don't wait any longer, try RocketX today and experience the best in crypto trading!
About OpenOcean
OpenOcean is a leading DEX Aggregator, a cross-chain swap aggregator, and Web 3 middleware developer in the crypto space, offering a suite of tools across 20+ networks and 280+ deep liquidity sources. OpenOcean is building a one-stop trading platform, to bring users the best swap return for decentralized crypto trading.
About RocketX
RocketX is the most advanced hybrid CEX & DEX aggregator that makes it easy to compare prices across 270+ exchanges to help traders with the best prices with every Swap while enjoying 100% ownership of their digital assets.
For dApps & institutions, we act as a middleware by simplifying access to global crypto liquidity via a single API for in-app crypto swaps with best prices and 1-click cross chain capabilities.
Value Proposition:
Seamless Interoperability

Increased Liquidity

Better Price Discovery

Improved User Experience

Lower Latency

Enhanced Security on Crypto Swaps

 
We are on a mission to enhance interoperability between blockchains and drive mass adoption of crypto by simplifying access to all leading blockchains via single UI and API.