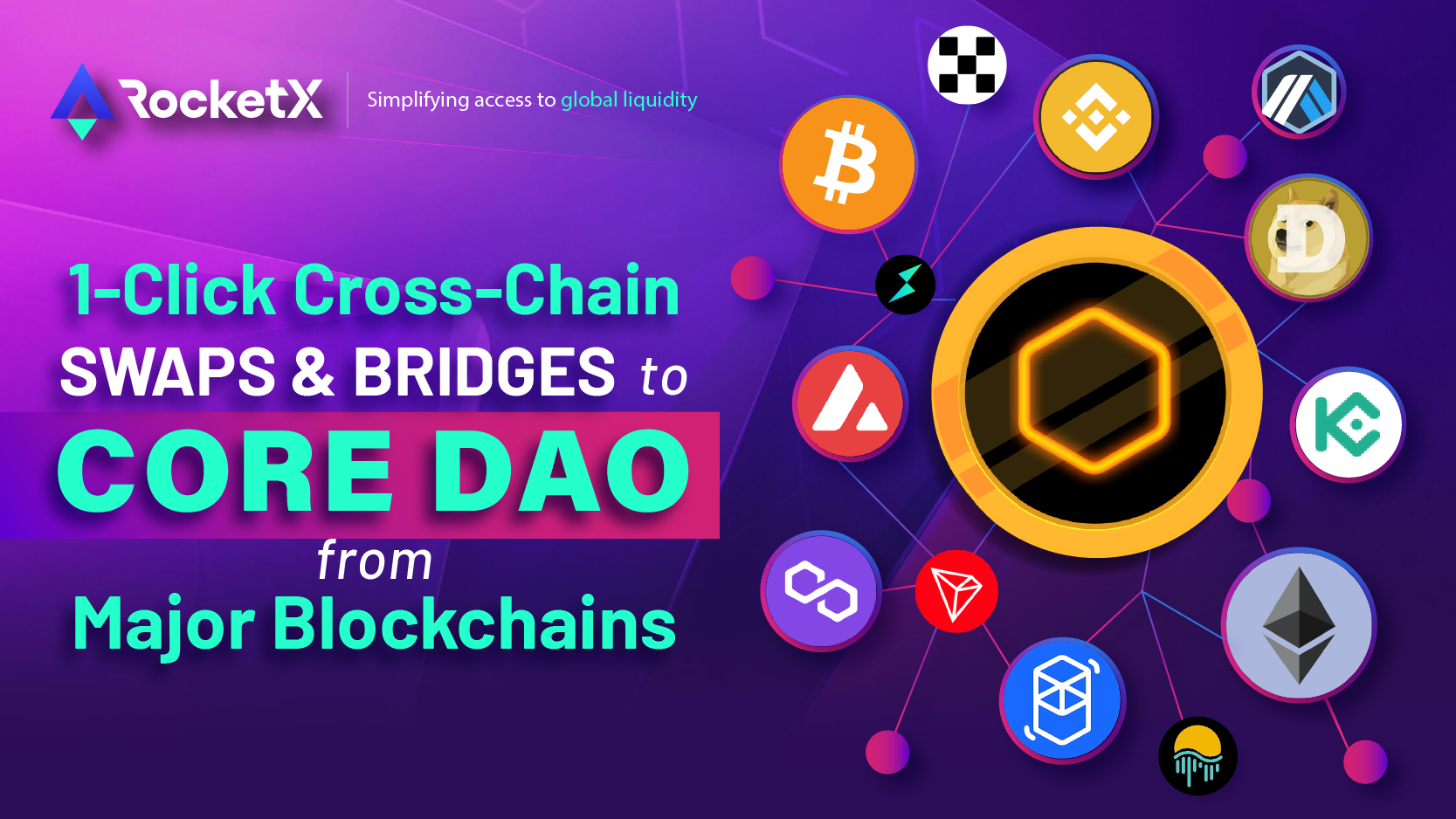 Breaking Down the Silos: RocketX Brings Seamless Transactions to Core Mainnet
RocketX is thrilled to announce the integration of Core mainnet, a leading blockchain network on our multi-chain, hybrid platform! 🎉
This integration enables Core Mainnet to connect and interact with 20+ leading blockchains, making it possible to bring existing digital assets onto the Core Network effortlessly and securely.
Interoperability is a crucial aspect of blockchain technology, allowing for effective communication, information sharing, and consensus among different blockchain rulesets. As the blockchain industry expands, interoperability must grow in tandem. In the past, blockchains were primarily focused on achieving consensus internally, limiting external communication and transferability of on-chain assets and information.
RocketX solves this problem by providing a scalable, secure, and decentralized framework for cross-chain interoperability.
Exploring Types of Transactions on Core Mainnet via RocketX
✅

Cross-Chain Swap

from/to Core from different chains including Bitcoin, Ethereum, Polygon, Avalanche etc. in 1-click!

✅

Bridge / Transfer from-and-to Core Chain at the lowest gas fees and in 1-click! (Coming soon!)
✅ On-Chain Swap on Core Mainnet directly from your favorite DeFi wallet. (Coming soon!)
✅ Compare prices from across 250+ Exchanges both Centralized & Decentralized, to swap at the best price for every trade!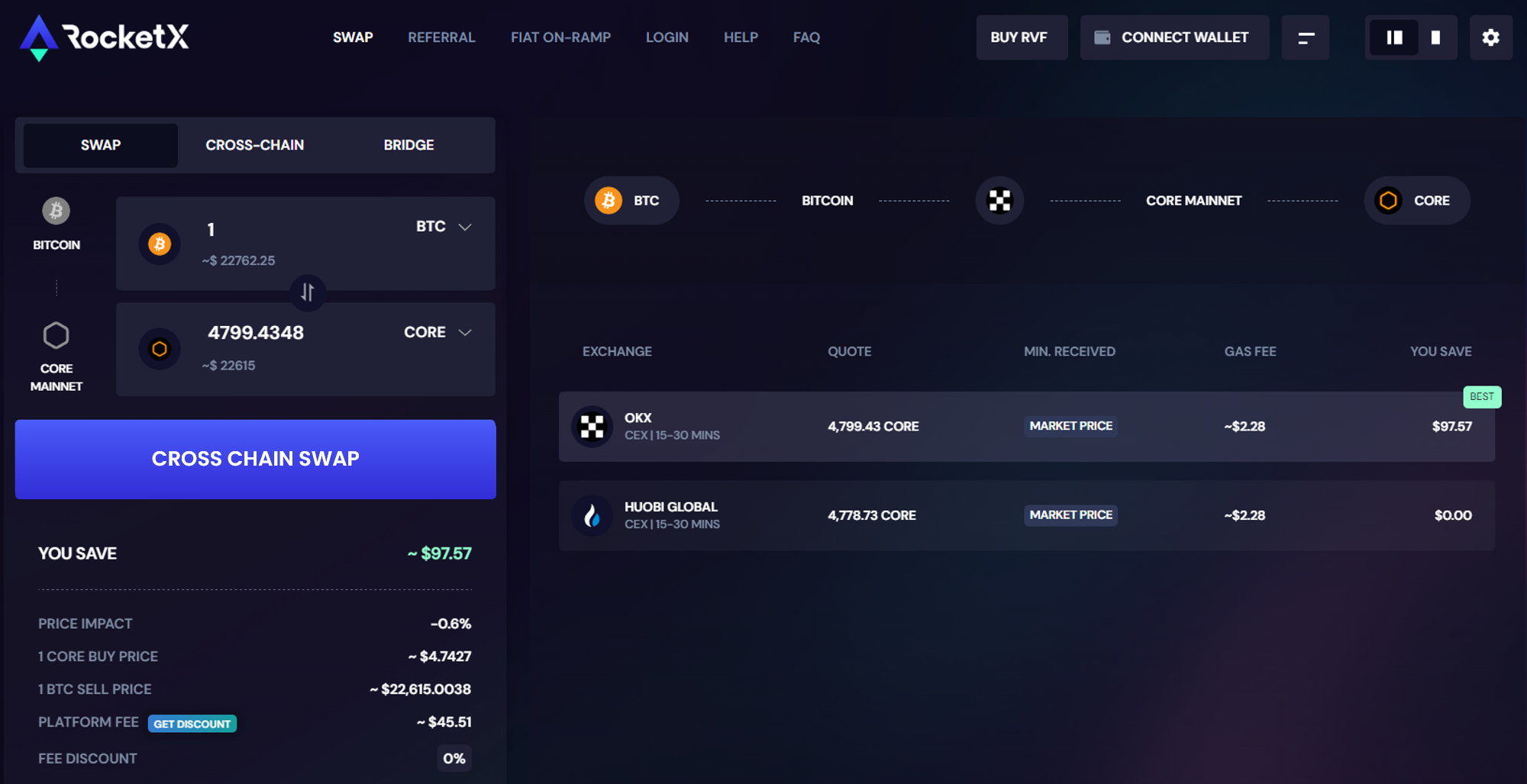 Adding Core Mainnet to MetaMask / Trust Wallet
To add Core Mainnet to your MetaMask wallet, you will require the network's information like the RPC URL and Chain ID. This information can be obtained from various sources, however, it is recommended to obtain them from the official documentation of the chain. Additionally, for convenience, the information is provided as follows:
Network name : Core
Network URL : https://rpc.coredao.org
Chain ID : 1116
Currency Symbol : CORE
About Core DAO
Core DAO is a decentralized autonomous organization (DAO) that aims to build a strong and inclusive community in the Web 3 ecosystem. It is built on the Satoshi Plus consensus, which the organization claims to be the only truly decentralized Web3 consensus.
Salient features of Core Mainnet
Satoshi Plus Consensus:

The Core DAO consensus mechanism is based on Satoshi Plus, which is designed to be secure, scalable, and decentralized.

Hard Cap:

The supply of CORE tokens has a hard cap of 2.1 billion tokens, and a percentage of block rewards and transaction fees will be burned.

Inclusive Community:

The mission of Core DAO is to build the strongest and most inclusive community in Web 3, where everyone is welcome.

Liquid Markets:

Liquid CORE markets will be available for safer and faster trading when the airdrop occurs.

Turing-Complete Blockchain:

The Core blockchain is Turing-complete, leveraging the Bitcoin mining hash-rate and the Ethereum Virtual Machine (EVM).

Open Access:

The Satoshi Plus blockchains are open source and available for all people to use and grow.

Oracle Integration:

Core DAO has integrated with Switchboard, a permissionless oracle protocol for general-purpose data feeds
About RocketX
RocketX is the most advanced hybrid CEX & DEX aggregator that makes it easy to compare prices across 250+ exchanges to help traders with the best prices with every Swap while enjoying 100% ownership of their digital assets.
For dApps & institutions, we act as a middleware by simplifying access to global crypto liquidity via a single API for in-app crypto swaps with best prices and 1-click cross chain capabilities.
We are on a mission to enhance interoperability between blockchains and drive mass adoption of crypto by simplifying access to all leading blockchains via single UI and API.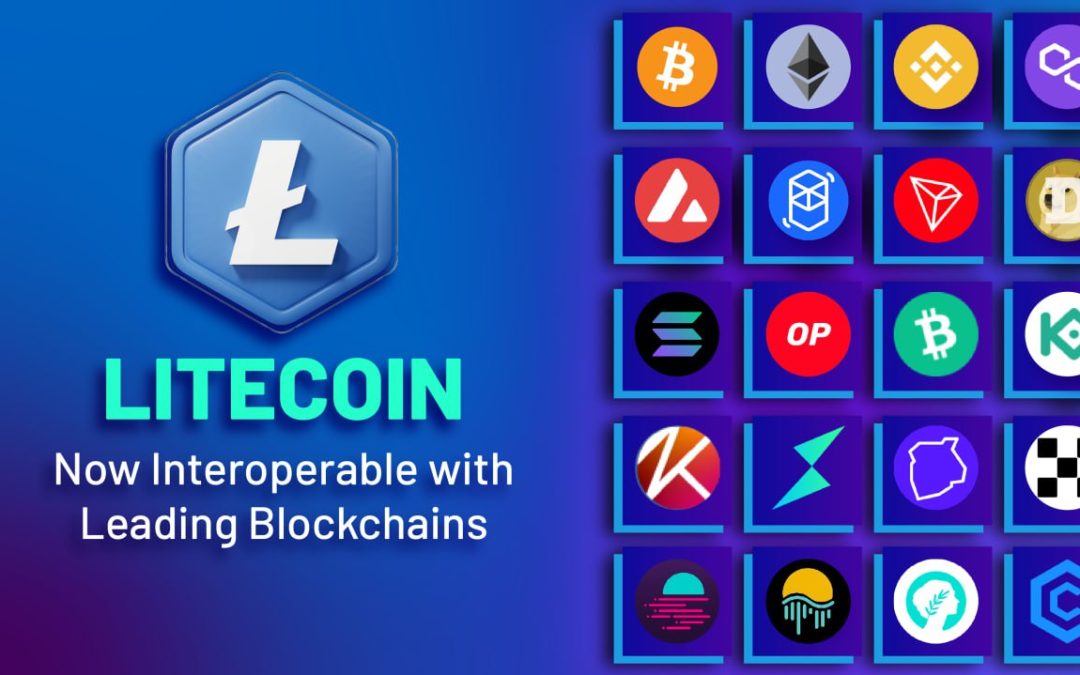 RocketX is proud to add another major blockchain to its platform.  It has integrated the Litecoin network into the exchange, providing the best rates on Litecoin swaps across 30+ blockchains. Decentralized CEX and DEX aggregator, RocketX is known for providing...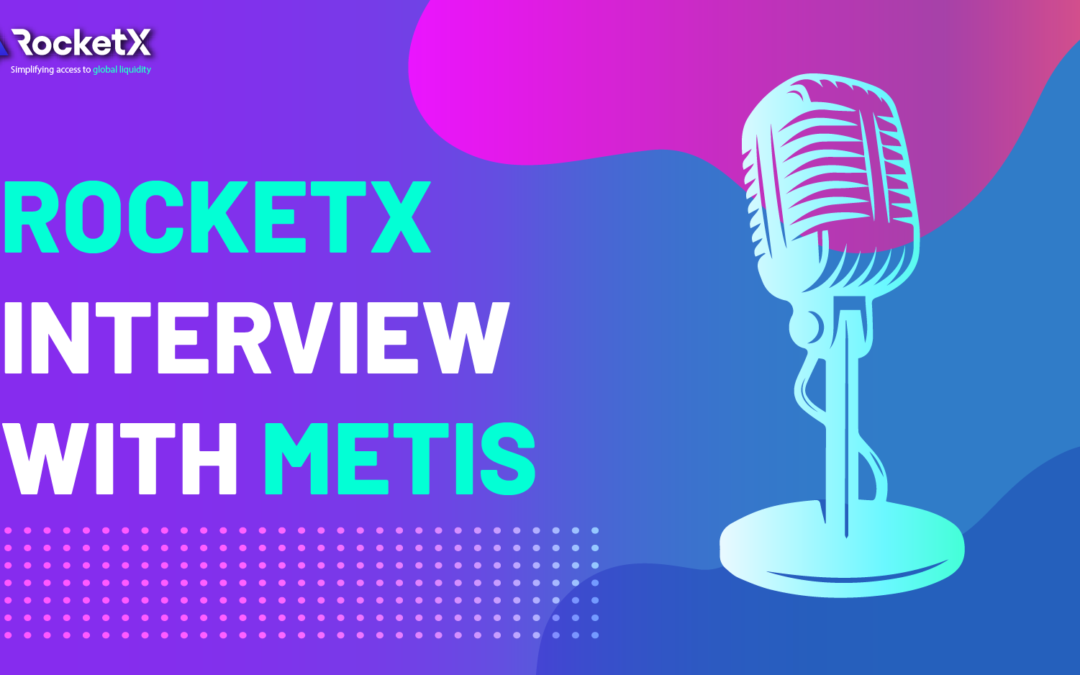 RocketX Interview with Metis Andromeda | IMPROVING Interoperability Between BlockchainsHere's a transcript from the RocketX interview with the Metis team. They discussed on many interesting topics around the features of RocketX and the importance of interoperability...