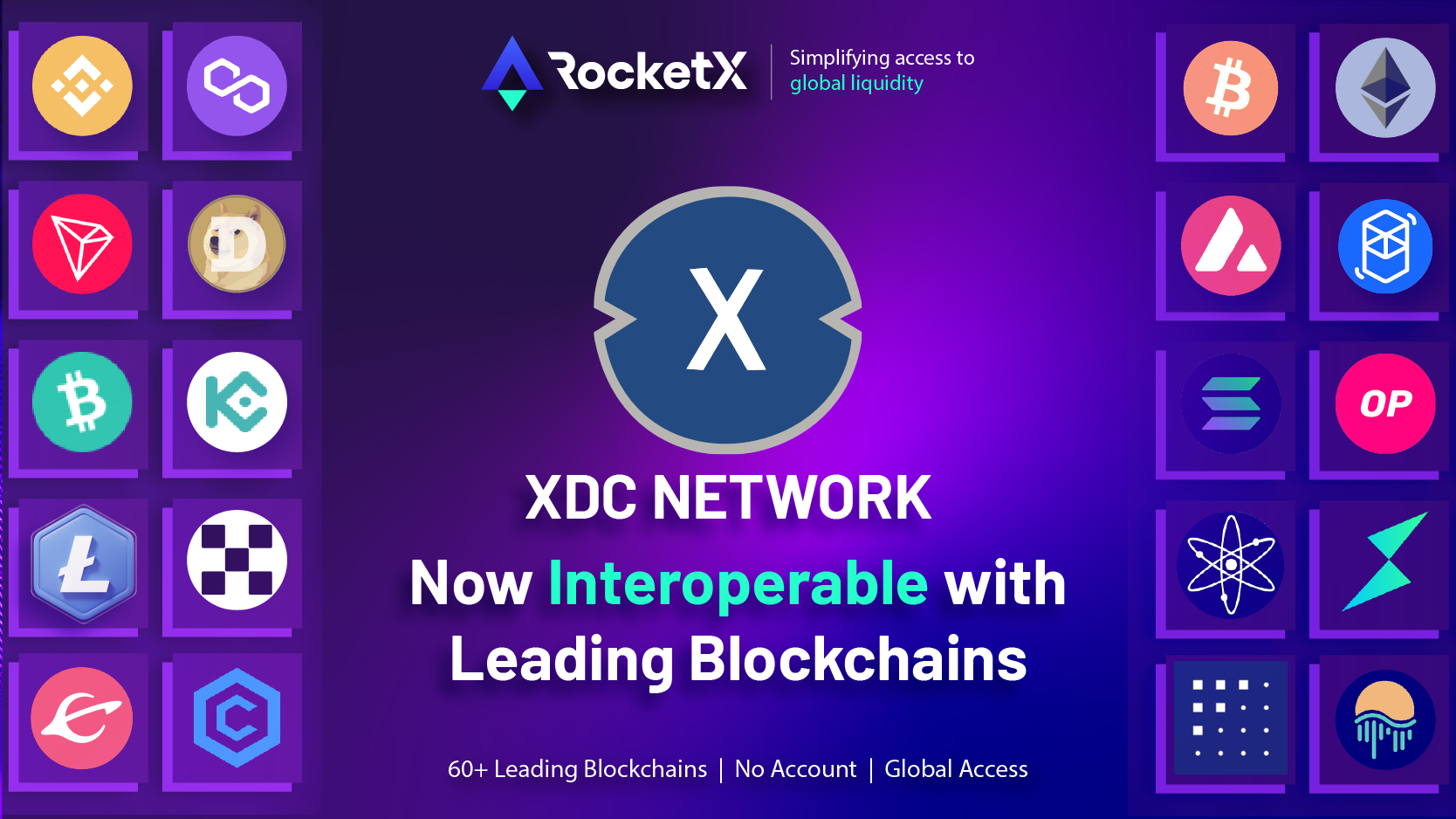 RocketX's Cutting-Edge Platform Integrates XDC Network for Seamless Cross-Chain Swaps
Get ready for an exciting experience as XDC Network has landed on RocketX's cutting-edge platform, ushering in a new era of decentralized finance. 
With RocketX's innovative one-click cross-chain transactions, accessing liquidity across both centralized and decentralized exchanges has never been easier. Say goodbye to compatibility issues faced by siloed blockchain networks and enjoy seamless transfers of value between various chains.
XDC Network's interoperability with leading blockchains like Bitcoin, Ethereum, etc via RocketX, means that XDC Network is set to revolutionize the DeFi ecosystem. With speedy and user-friendly swaps, RocketX makes DeFi adoption more accessible than ever before.
Ready to experience the benefits for yourself? Try RocketX today and discover the game-changing power of XDC Network.
Explore the Full Potential of XDC Network, ONLY on RocketX
Discover the limitless possibilities with XDC Network on RocketX. These game-changing options await you:
Users can compare prices on both CEX & DEX, to enjoy the best prices for every swap.
Swap on CEX from DeFi wallet and own your assets 💯%
Experience the convenience of 1-click cross-chain swaps. Effortlessly exchange cryptocurrencies like Bitcoin, Polygon, Avalanche, and more to XDC Network on RocketX.
Access XDC Network with minimal fees and ease.
"We're excited that XDC Network has been integrated within RocketX so that its users can benefit from our enterprise-grade blockchain infrastructure. This integration represents an important step in our mission to drive the adoption of blockchain technology across a range of industries, and we look forward to working closely with RocketX as they work to deliver more innovative DeFi solutions to the XDC ecosystem."

– Matthew Weisenthal, Director of Ecosystem Relations, XDC Network
"We're thrilled to welcome XinFin XDC network to the RocketX family. Our partnership accelerates onboarding for the next billion users to XDC Network, seamlessly transferring digital assets from 60+ blockchains to XDC Network through 1-click cross-chain swaps. This partnership represents a giant leap towards a more inclusive and decentralized future for all."

– Davinder Singh, Co-founder, RocketX
About XinFin XDC Network


The XDC Network is an enterprise-grade, EVM-compatible blockchain network supporting interoperable smart contracts. A highly optimized, bespoke fork of Ethereum, the XDC Network reaches consensus through a delegated proof-of-stake (XDPoS) mechanism, which allows for two-second transaction time, near zero gas fees, and over 2,000 transactions per second (TPS). Secure, scalable, and highly efficient, the XDC Network powers a wide range of novel blockchain use cases.
XDC.org | XinFin.org | XDC Foundation Twitter | XinFin Twitter || Telegram || LinkedIn || Reddit || Facebook || Forum 
About RocketX
RocketX is the most advanced hybrid CEX & DEX aggregator that makes it easy to compare prices across 270+ exchanges to help traders with the best prices with every Swap while enjoying 100% ownership of their digital assets.
For dApps & institutions, we act as a middleware by simplifying access to global crypto liquidity via a single API for in-app crypto swaps with best prices and 1-click cross chain capabilities.
Value Proposition:
Seamless Interoperability

Increased Liquidity

Better Price Discovery

Improved User Experience

Lower Latency

Enhanced Security on Crypto Swaps
We are on a mission to enhance interoperability between blockchains and drive mass adoption of crypto by simplifying access to all leading blockchains via single UI and API.
Website | Twitter | Telegram | Blog | LinkedIn | YouTube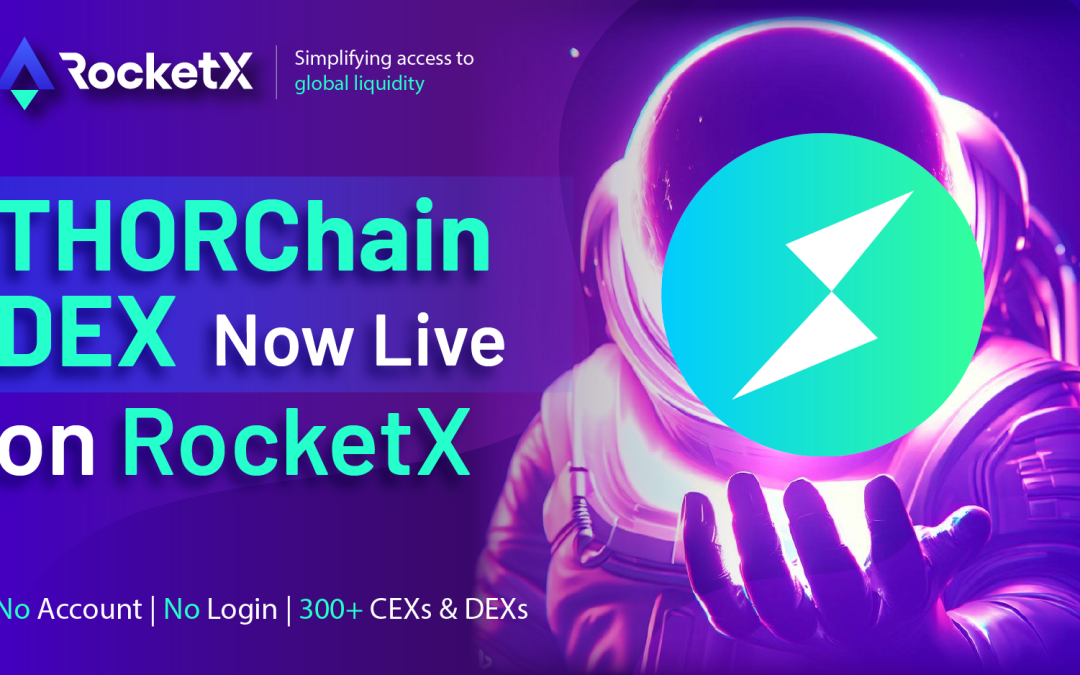 In an exciting development for cryptocurrency enthusiasts and traders, RocketX, Hybrid exchange has added yet another gem to its extensive array of decentralized exchanges (DEXs) and centralized exchanges (CEXs). The integration of THORChain DEX, a top-tier...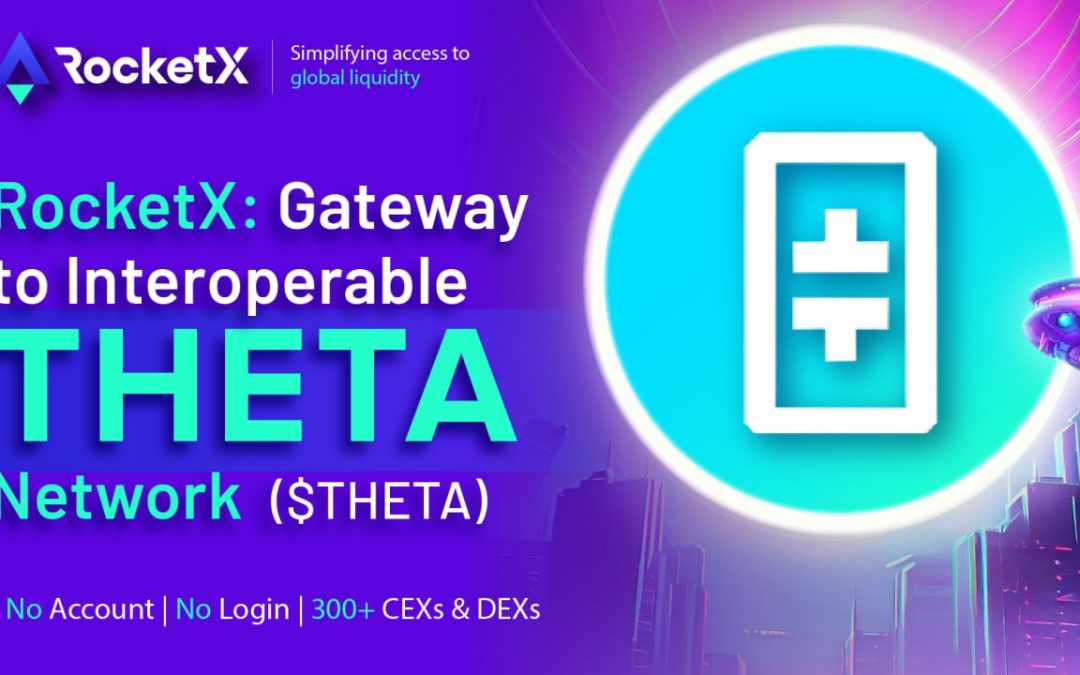 Introduction The media and entertainment industry is undergoing rapid transformation, as decentralized technologies emerge to revolutionize how we stream and consume video content. Theta Network is at the forefront of this revolution, leveraging blockchain...